COVID-19 ros
Another aspect of the report this year concerned satisfaction during the COVID-19 pandemic, and here Denmark performed excellently.
"Seven out of ten expatriates in Denmark say that their relocation plans have not been disrupted by COVID-19 (against 63 percent globally). It is mostly their personal travels that have been affected (35 percent versus 28 percent globally), " the report was found.
Respondents also seem very pleased with the official announcement of the pandemic and the related rules: 81 percent give it a positive rating (versus 66 percent globally). They like that the information is easy to understand (66 percent), easy to find (54 percent) and available in multiple languages ​​(35 percent). "
Taiwan finished at the top of the rankings ahead of Mexico, Costa Rica, Malaysia and Portugal, while the top 10 were completed by New Zealand, Australia, Ecuador, Canada and Vietnam.
At the opposite end of the spectrum, Kuwait completed the bottom, followed by Italy, South Africa, Russia and Egypt.
Other notable were Spain (16), China (22), France (25), Ireland (28), Indonesia (31), USA (34), Brazil (35), Germany (36), Great Britain (45), South Korea (47), India (50) and Japan (54).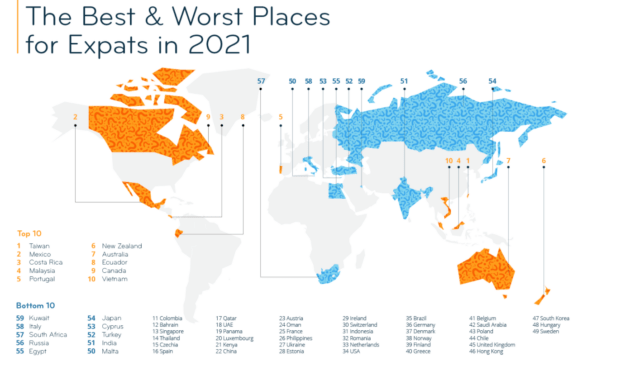 Source: The Nordic Page