Although going back to school will feel like business as usual for most kids returning to classrooms across the country this week, starting early education may feel particularly challenging this year for the thousands of children born during the pandemic
Heinävesi 6th graders Ukko Sallinen and Veeti Saren said that returning to school on Tuesday felt "typical" and "not too strange." The boys, who have been in education for five years now, and told Yle that it was especially "nice to see friends again."
In contrast however, parents of Covid era babies are worried about how their children will adapt to a social environment when all they've known is a life of social distancing.
Brothers Hugo and Luka Manninen were born around the same time as the borders of Uusimaa were cut off from the rest of the country in spring 2020, and the world has been battling with the coronavirus pandemic throughout the entirety of their lives.
The children have met fewer strangers than their peers would have usually met by now, and starting daycare where they will be surrounded by lots of unfamiliar faces may feel daunting.
"Daycare services for families with children were not available due to the coronavirus pandemic. There were small, but at the same time quite big, factors affecting everyday life right from the start," the mother of the twins Nea Martemaa recalled.
Starting daycare always a big step
In the yard of the local daycare, the boys are suddenly surrounded by a big group for the first time in their lives. Martemaa tried to make the transition of starting daycare easier for the children by taking Hugo, Luka and their older sister to play in the yard prior to their first day.
"I've been trying to tell the boys that daycare is starting. Their answer to everything is always "sausage," so I don't know if the message got through," the mother laughed.
Early childhood education experts are, however, not too worried. University of Helsinki professor Lasse Lipponen told Yle that beginning early childhood education is in any case a big change for a small child even under normal conditions, and children are adaptable. The most important thing for them is caring adults and safe friendships.
Story continues after photo.
Young children have not suffered from restricted contact like adults, the expert adds.
"The social circles of young children are much narrower. Their close circle feels the most important," Lipponen said.
The strain of a restricted social life and the ensuing anxiety is felt by children mainly through adults. It is thus the anxiety of adults that children usually sense, according to the director of Aamurusko Steiner Daycare, Sanna Jacksen.
"When adults are well and take care of themselves, children are also well," Jacksen said.
Long-term impacts of restricted life on children still unclear
The social and psychosocial effects of the pandemic on children have not yet been studied in Finland to a large extent, although concerns about the impact on children's well-being and mental health have often been the subject of public debate.
"The direct effects of the coronavirus pandemic on well-being are quite difficult to verify but there probably are some consequences," professor Lipponen said.
According to global studies, children and poor families in poor countries are most affected by the pandemic.
"On a global scale, we are quite lucky and well-off in Finland. Affluent and middle-income families will often find the help they might need. Attention should be focused on disadvantaged families and how to support them," Lipponen added.
Early childhood educator Sanna Jacksen is further worried about the lack of interaction brought by face coverings.
"We'll need to be vigilant and cautious about the effects that all of this will have in the longer term and come up with support measures," the director of the kindergarten said.
Story continues after photo.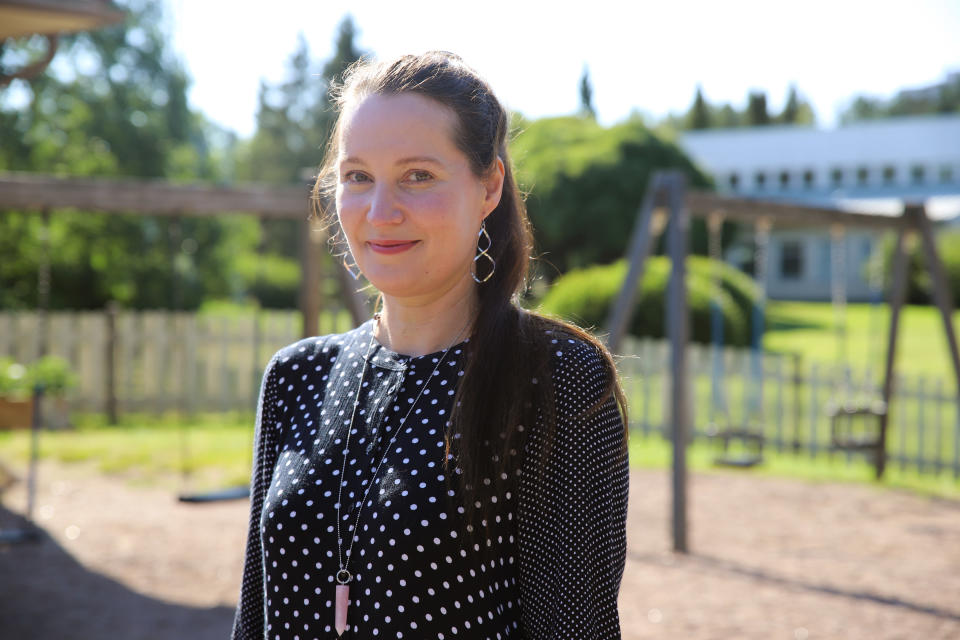 The long-term effects of exceptional circumstances on children and families are still difficult to assess. The consequences will not be investigable until about 10 years from now, according to the experts.
Prohibitions and precautions aside, the guidelines of the Board of Education remind educators that feelings of closeness, safety and interaction with adults are especially important for young children and that daycares in particular should thus strive for circumstances resembling everyday life as much as possible.
"We really do not cut back on embracing, nor contact, nor intimacy. We hope that children are carefree and fearless. And that they can trust that we adults are taking care of things and good care of them," Jacksen said.
Source: The Nordic Page