Tampere's Samke High School will launch Finland's first specialized high school skateboarding program this autumn.
The department is a specialized high school that offers sports programs and communications, both of which are included in courses that emphasize skateboarding.
"A similar program has been running in Malmö, Sweden since 2005," explained Teemu Grönlund, Samke Skateboarding Curriculum Coordinator.
Skating boys and girls are still expected to attend traditional high school classes, but the program also emphasizes topics such as audiovisual communication and organizing events. Photography and video production are key elements of skating culture, Grönlund said.
Skateboarding tricks only take a moment, but skaters often record movements for posterity and share them with friends.
If a student wants to place more emphasis on competitive sports, he or she can take advantage of the opportunities offered by the school's sports side, Grönlund explained.
"But competitive sports are only a small part of skateboarding," he stressed.
The story continues after the picture is taken
"Clearly this group [of students], which has just begun, is interested in roller culture. This includes, for example, the development of urban culture, community and events. Her fashion," he exclaimed.
"Skateboarders have always been at the forefront of innovative fashion trends, and a couple of years later the trends are visible in retail stores," he said.
Grönlund is a researcher and teacher of biology and geography. He also helped to establish – and lead – the Pirkanmaa Arched Dogs Association, a collective skateboarding organization that promotes sports and the DIY culture often associated with skateboarding.
Skating students get to practice at Finland's largest concrete skateboard hall in the city's Hiedanranta district, on a skater's obstacle course built by local skateboarding enthusiasts.
"This has been my wish and dream for a long time. Now it really looks like everything has come together," Grönlund said.
"The environment of Hiedanranta is sure to inspire everyone to develop their own areas of strength, whatever they may be. Going to high school today is tedious and time consuming – this is a counterbalance to" he said.
'That's what I want to do'
Skater student Oona Kaskinen started skateboarding nine months ago, but moved about 140 kilometers northeast of Turku to Tampere to participate in the special program.
"I wanted to make sure that in addition to school, I could play sports as much as possible," he said.
The story continues after the picture is taken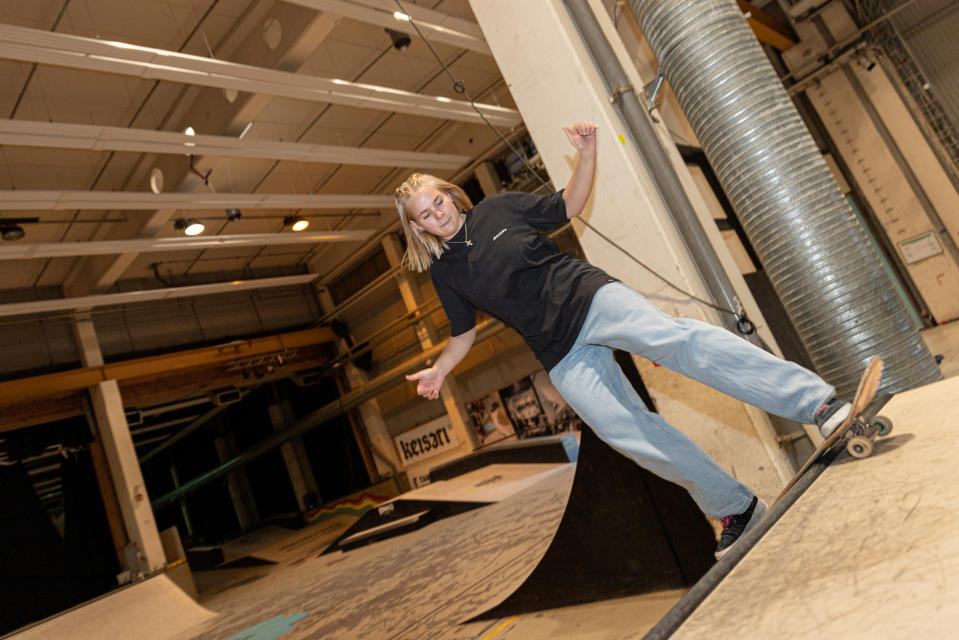 Meanwhile, Ruu Ahlstedt Fiskars has been skating for about a year and a half.
"I skate every day. I take sports seriously because I want to do it." Ahlstedt said, although he may not want to live in sports.
"I have no desire to become a professional. I just want to skate as much as I can and develop my skills as much as possible," he explained.
Kaskinen said he was trying to learn new skills.
"I want to learn new tricks, the kind I've dreamed of doing. I would also like to show people that skateboarding is a good thing and not just [the source of] Some noisy noises on the street," he explained.
"I just want to skate and graduate with good grades," he added.
Coaching is a "weird word"
Two coaches – professional skaters Jussi Korhonen and Samu Karvonen – helps teach and train students to learn new skills twice a week. Korhonen is a trained physical education teacher and Karvonen is graduating with a degree in professional coaching.
Korhonen has been involved in skateboarding for more than 30 years and has even made an international career in sports. At the same time, Karvonen is one of Finland's best-known representatives of skateboarding.
Korhonen stated that some people think he may be too old to participate in sports.
He acknowledged the relatively high age of the sport, he said "physically, recovery takes longer [skateboarding]. Every time I jump on the board, I'm 14 years old. And with these high school students, I feel many ways" Korhonen said.
The title was said by Karvonen "skateboarding coach" did not fit into his actual job at school.
"'Coaching' is a bit of a weird word. Rather, we are directors or instructors," he explained.
According to Karvonen, participating in skateboarding in the autumn does not necessarily mean a great athlete.
People can participate in the sport as photographers, event coordinators, or a local club administrator who builds skate parks and promotes skateboarding, he said.
"Now we give and show [the kids] there are more opportunities for what can be done together within a discipline while enjoying a hobby," Karvonen explained.
The school's new skater program was drawn up with the help of the city of Tampere and the principal of the school Tuija Ylöniemi. Further cooperation was provided by the Olympic Committee and the Tampere Sports Academy (Tampere Sports Academy).
Source: The Nordic Page