You have seen Copenhagen and all the major attractions. What now? Here are 5 lesser known places that give you a unique experience of what Denmark has to offer! Whether you rent a car or use public transport, these places are accessible and provide insight into Danish culture.
Skagen – home of Grenen
If you enjoy hiking and yoga by the beach and want to get rid of the busy sounds of the big city jungle, Skagen may be the place for you. Get yours rental car in Aalborg and take the scenic drive to Skagen. Once there, you can enjoy the natural light and scenery while having lunch or dinner in one of the many seafood restaurants in the city. You may also enjoy visiting The Local History Archive, a former courthouse that houses impressive collections of photographs, maps, and books about the city's harbor, shipyard, and fishery.
This city is not only a picturesque little place, peaceful and idyllic – it is also home to several natural phenomena. Visit Grenen, Denmark's northernmost point, and see how the two seas, the Skagerrak and the Kattegat meet in large waves. You can also visit Råbjerg Mile, which is only 15 minutes away, and find peace in the moving dunes. This natural phenomenon is a must-see!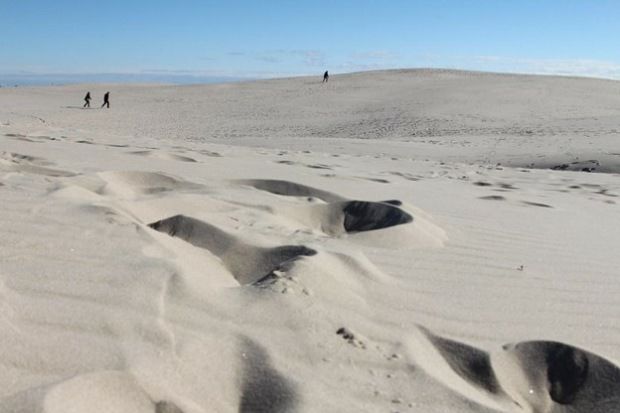 Cold Hawaii in Klitmøller
Two and a half hours from Skagen by car you will find Cold Hawaii along the coast. As the name suggests, it's a bit like the famous Surfers' Paradise, except it's a little colder. Do not let it fool you! If you are looking for excitement and want to learn to surf, you have reached the right destination. There are about 30 surf spots and lots of instructors to help you.
HEART in Herning
During your road trip around Denmark, you may long for a taste of modern Danish culture. HEART is, if you have not guessed, a heart that beats in the form of a contemporary art museum. From Aarhus, the drive takes you just over an hour! Enjoy the fantastic building and explore a mix of Danish and international conceptual and experimental art. If you are more of an outdoor enthusiast, the museum also has a sculpture park consisting of 36 sculptures as well as The Geometric Garden — where you can get lost in a maze of 6-8 meter high hedges!
Sculptures in Give
Another little escape and a quick one! If you are in Billund to visit Legoland and you have a desperate need for an easy transit cultural experience, Give a small town is only twenty minutes away. You can find a map of the more than 50 sculptures located around the city to see for free and easily navigate around the city to see many Danish sculptors. Many of the sculptures are also for sale, so maybe you will even find something you would like to keep!
Christiansfeld
For a quick stop and a nice snack, Christiansfeld makes the perfect rest stop – and it is also a UNESCO World Heritage Site! You do not need more than a few hours to see this beautiful city and you will be able to taste a real Christiansfeld specialty; gingerbread. Have your coffee stretch your legs as you walk among some of the oldest preserved yellow brick houses. This small but important town is a wonderful place to discover the meaning of "coziness".
Driving in Denmark
Denmark is generally a very drivable country with a well-developed and maintained road system and infrastructure. Except for the Great Belt Bridge between Zealan and Funen and the Øresund Bridge to Sweden, all roads are free. Distances in Denmark are short, and you will essentially be able to drive from one end to the other in less than a day. This means less time on the road and more time to explore all that Denmark has to offer. Book your rental car and start planning your Danish road trip today!
Source: The Nordic Page