A survey conducted on behalf of the City of Copenhagen among young residents in the Northwest reveals that most of them tend to overestimate how many gang members aged 15-18 live in the district.
Not in gangs, not always on the street
On average, participants in the study estimated that 20 percent of the age group are in gangs. In reality, it is only 2 percent.
In addition, they estimated that over 50 percent of young people spend most of their free time on the streets. In fact, only 9 percent do so.
They also underestimated how many were still in the education system (51 vs. 76 percent).
Risked normalization of gang membership
The study's author, sociologist Aydin Soei, was both confirmed and disturbed by the results.
"For example, when there is a perception that 20 percent of peers in the district are gang members, it can pose a risk factor relative to the normalization of gang membership," he said.
"Even though prejudice says otherwise, young people in the Northwest actually have a rich leisure life. They educate themselves, take care of their jobs and pursue leisure activities, but if no effort is made to improve young people's self-understanding, myths and negative expectations can easily become a reality. "
Undeserved bad reputation
Ninna Hedeager Olsen, the mayor of technology and the environment, agreed.
She said the prejudice "spreads to young people's perceptions of themselves" and gives the area "an undeserved bad reputation and stigma".
She warned that political action is needed to ensure that "negative prejudices do not turn into a self-fulfilling prophecy".
---
Plans that pedestrians in the climate district in Østerbro hit the stumbling block
A few blocks off Lyngbyvej in the direction of Østerbrogade, just from where Jagtvej takes the right to follow the perimeter of Fælledparken, you will find Sankt Kjelds Kvarter – the so-called Klimakvarteret (climate district). City Hall wants to close the area to traffic — initially as part of a pilot scheme until 2024. However, opposition is growing from right-wing parties as the area provides a useful shortcut to motorists and they fear closing the area will cause traffic jams. Ironically perhaps, but right in the heart of the climate district is a roundabout!
Østerport Station: The metro station that has never opened properly
The metro company has defended the time it has taken to fully realize the plans for the new Metro City Ring stop at Østerport Station, which opened to the public in the autumn of 2019. Its proposed pedestrian tunnel is still not completed, while detours and diversions are still the norm for most passing through the area. One of the difficulties, Metroselskabet employee Helle Dahl Andersen, construction site manager, explained to TV2, is the difficulty of working on such a "small, narrow construction site", which was made worse by the "S-trains that drove past just outside". Corona did not help either. But now it looks like the soil surface work could have been completed before the fall break.
Adaptation of traffic to optimize the trip to Lynetteholm-bound trucks
Copenhagen Municipality and City & Port want to improve conditions for vehicles passing from the city center to Amager in anticipation of a huge increase in heavy freight traffic in 2023. In that year, an estimated 314 trucks a day will cross Langebro together with 184 trucks across Knippelsbro -an annual work that does not stop for decades, as the land needed to build the man-made island Lynetteholm is transported over. The authorities want to encourage the trucks to favor Langebro over Knippelsbro and will therefore reject traffic lights, expand lanes and make more lanes available at the Christmas mills Møllers Plads and Uplandsgade / Vermlandsgade.
New hotel opens in the former home of Nordea and B&W
A new five-star hotel has opened on Strandgade 7 by Knippelsbro in Christianshavn. Until 2017, NH Collection Copenhagen served as the headquarters for Nordea, but it has now been renovated: 4,000 sqm have been added, including a new seventh floor, an extended ground floor and a restaurant facing the harbor. Owned by ATP Ejendomme, the original 33,000 sqm building was built between 1957 and 1962 based on a design by architect Palle Suenson. It was originally the headquarters of B&W.
Bird-proof bins could fix scenes with the litter Armageddon
It is easy to assume that Copenhagen is a city full of litter bugs, such is the mess that often greets commuters early in the morning. But very often the sinners are neither teenagers nor drunk, but birds. Most are looking for food, but some have other motives: in some cases, swans have built entire nests out of the trash! The City Hall's Technical and Environmental Administration intends to rectify this by placing protective wires on the rubbish bins. The bird-safe bins will hopefully be in place by mid-2022.
Deadly stabbing in Nørrebro on Tuesday night
On Wednesday, the police in Nørrebro had not been able to inform the relatives of the victim about a fatal stabbing on Tuesday evening some time after 22.00 on Hans Tavsens Gade in the district. They have therefore released a description. The man was 26, Syrian and almost bald with a completely black beard. He was wearing a gold necklace, black Nike sneakers, blue jeans and a black Levis t-shirt. Police are appealing for witnesses. It is believed that the man was an asylum seeker.
No more free corona tests for commuters entering Sweden
Commuters coming to Sweden from Denmark will no longer have access to free corona testing once they have crossed the border. They must either be fully vaccinated, have been infected for the last six months or have taken a recent test in Denmark. Under 15 are exempt. The free tests in Sweden have cost Region Skåne more than 100 million Swedish kroner since the pandemic began.
Residents are against the construction of the Amager statue, which looks like an anal sex toy
A dispute over the location of a statue on Christmas Møllers Plads on Amager is still unresolved. Residents are not thought to be so bothered by what 'The Gate to Amager' looks like – it has been described by some as resembling 'an anal sex toy' – but its size. Not only will it ruin the views of some residents, but it will be located in an area already congested with bicycles for visitors to the nearby Netto. The City Hall's Technical and Environmental Administration, which was criticized for initially having green lighting of the project, has been in deep consultation with residents and companies during the summer, and it seems that only nine out of 45 residents support the construction.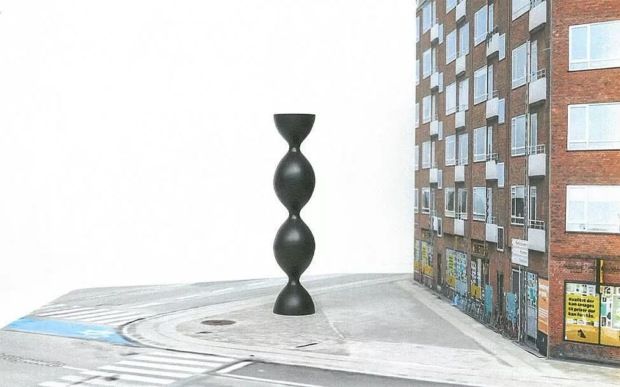 Source: The Nordic Page