Fifty seats landed at Jyväskylä Airport on Wednesday and carried only three passengers. One passenger got back to Helsinki.
"The Jyväskylä flight connection has been established with international connections in mind, and due to the Covid situation, the number of passengers is really small," says Pipsa Eklund FICORA Traficom.
Before the pandemic, about 80 percent of Jyväskylä's passengers transferred to another plane at Helsinki-Vantaa.
Traficom pays the Estonian airline NyxAir EUR 5577 for each round trip between Helsinki and Central Finland. Due to the current number of passengers, the public subsidies for this link are over a thousand euros per passenger.
The story continues after the picture
Helsinki-Vantaa Airport is just over a three-hour train ride away. Tickets can be purchased in advance for around 20 euros, but the flight takes 45 minutes and currently costs less than a hundred euros one way.
Traficom's subsidies were subsidized to support the route because ticket revenues were not close to covering its costs.
In the spring, Finnair stopped flights from Helsinki to Jyväskylä, Joensuu, Kokkola-Jakobstad, Kajaani and Kemi-Tornio.
The government will continue to spend approximately EUR 13.8 million on keeping these airports up and running to ensure that they maintain their connections to Finland's most important aviation center through other airlines.
According to Statistics Finland, domestic air traffic causes 0.2 megaton tonnes of greenhouse gas emissions annually, which is twice the emissions of all Finnish rail traffic. Zither estimates The volume of international aviation in Finland is 5.2 megatons, which is attenuated by non-CO2 pollutants.
Finland's total emissions are more than 50 megatons per year, and the government has announced that it wants to be carbon neutral by 2035.
Support will continue next summer
In the spring, it was hoped that passenger numbers would improve before the turn of the year and traffic would become profitable again. This hope has been wasted as the pandemic continues and travel restrictions continue.
The government agreed on Thursday that these subsidies will continue until mid-August 2022.
"Of course, some flights would have been profitable anyway, but subsidies are a very important factor in making customers understand that the plane will continue to fly in two weeks," said Pipsa Eklund of Traficom.
The story continues after the picture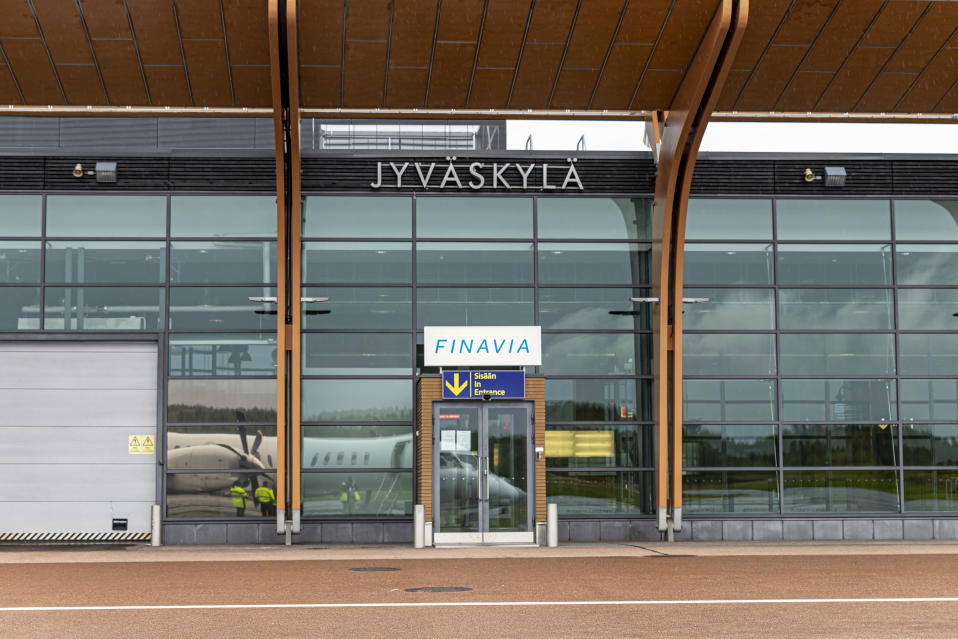 The largest numbers of passengers have been seen on the Kajaani-Helsinki route, and each August flight carries at least 20 passengers. The flights to Joensuu, Kokkola-Pietarsaari and Kemi-Tornio increased by an average of eleven passengers on each flight, while the average for Jyväskylä was three.
"The schedule of flights to Joensuu is currently not optimal, as it is based on flights to Europe, which are currently very few," said Erik Salen From Amaplaflyg on the Joensuu route.
Domestic air traffic is unprofitable for the second year
The Danish airline DAT flies a 40-seater plane between Kajaani and Helsinki. CEO of the company Jesper Rungholm says traffic will not recover by the end of the year.
Without the continuation of state aid, airlines would have stopped flying to provincial cities by the end of the year.
"Subsidies will continue until August [2022], then we can handle it on market terms," said Rungholm.
In winter, the route sees some international visitors to see the icy wilderness of Kainuu. DAT has a so-called Interline agreement with Finnair, thanks to which Finnair can always sell tickets to Kajaani via the DAT link.
One third of all passengers on the Kajaani route currently change to Helsinki.
At the same time, business travelers in Jyväskylä are expected to start traveling more.
"If we have a good airline in Jyväskylä, good schedules and transfer partners, the flight connection from Jyväskylä to the world will live," said Ari Hiltunen from the city chamber of commerce.
Source: The Nordic Page