In the heart of Valby's Kulturhus, the community group Sustainable Society flourishes.
Between workshops and kitchen gardens, David Hirst, Kirstine Desian and Hannah Russell are preparing their program for their participation in the local elections in November.
A stream of people
In addition to their slogan, the party feels in line with values ​​similar to the Alternative or the Unity List's red-green alliance of communists, socialists and workers. The party is not a fixed group, it is a hub: a constant stream of helping people.
Its initiators are inspired by ancient Greek agoras for direct democracy. They want total transparency by applying without filters what they want after them.
At the same level
They see themselves as intermediaries seeking horizontal debate rather than vertical representation. "Everyone on the same level" is their motto.
They insist that they do not want to be part of an overly impressive hierarchy that leaves them what it is supposed to represent.
CPH POST has recently caught up with them to find out more.
Inspiring life model
Sustainable society's main vision for economy and society, explains Kirstine Desian, 54, consists of daily sharing on a small scale to facilitate each other's lives. Disposable mass production must give way to solidarity-based consumption that gives more life to what everyone is able to lend.
"It's the kind of life model I want to inspire everyone to follow. Everyone should now be convinced of that. We have to change things, we can not keep going," says Desian, who comes from the Danish west coast. .
"But it is difficult to find alternatives. We have to rely on initiatives such as total recycling of raw materials, plastics, textiles. We need to stop massive shopping, overconsumption leading to waste. It is a complex and slow revolution in thinking and action that is necessary but through simple things. We have a really good life without spending much. "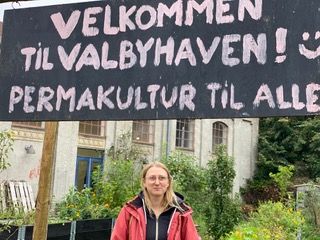 Not unlike Christiania
A lifestyle that sometimes resembles Christiania. For Kirstine and her colleague David Hirst, the free city is "more or less" a model in the societal aspect, but it is not a method to develop everywhere in Copenhagen, because it is a marginal and minority form of life that not everyone shares. .
"We believe that the municipality lacks representation of the large international community in Copenhagen and wants to have this perspective better expressed," she concludes.
Reconnecting communities
The members' headquarters are located in a local surplus food club.
"We want to develop more spaces around the city that encourage social interaction in ways that are not driven by consumerism, with a low environmental impact. There are already some in Sydhavn, Vesterbro, Vanløse, but the goal is to establish the supply points. in every quarter, "explains David Hirst, 35, who hails from the UK.
"I feel that communities and such initiatives are disconnected – there is no umbrella that brings them all together. The municipality must be involved in developing, making them known and attractive, such as reference structures. There is also a need to make them free to take on in order to enable them to be independent in the long run ".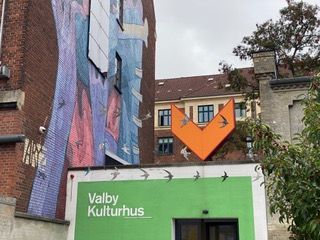 Biggest challenge ahead
Their most challenging point for the election is the artificial island Lynetteholm, a real estate project that will "protect the port of Copenhagen from rising water levels and cover the housing needs of 35,000 people". According to Kirstin, this is hypocrisy because housing prices are expected to be expensive and only available to the rich, and it represents a disruption of the local ecosystem due to the colossal location and the likely pollution that will be generated during construction and in the daily life on the island ".
Above all, it should not be an investment priority, she argues, it should only be dedicated to living and providing for a primary need.
"For 2025, the absolute goal is to stop talking about being a green city, but just to be a really green city. It just has to be a real green focus and not just on the surface. There is no point in installing solar panels on the roofs. "if the state makes it easier to buy cars. Some things are already done, but not completely, and it's not real green policies most of it. So we can push them in the right direction."
Sustainable society believes that the municipality is going too slowly, and it is with the individual's individual mobilization that things can change.
Hard on transport
"The original part that we can bring through the municipality is the experience from human projects," suggests Hannah Russell, 27, who has lived in the capital region for five years now.
"And a little more about systemic change," adds David. "Prevent or restrict?"
According to him, both are important. Their plans include closing small streets to cars, encouraging the production of smaller and less polluting cars, banning trucks in the city, focusing even more on the use of bicycles and making transportation free.
"Most of our signatures come from Nørrebro. That's where the people who share our views are. "
Source: The Nordic Page