According to a 2021 survey in the political science journal Acta Politica entitled 'Do campaign posters trigger voting based on appearance?', An abundance of surveys now suggest that candidates who look more attractive, competent or otherwise appealing win more votes .
It may be old news, but the authors Michael Herrmann and Susumu Shikano found correlations in German election data that suggested that the flood of voters with candidate posters, as in elections in Germany and Denmark, increased the incidence of "voting based on appearance".
So policies and promises aside, candidates hoping to win votes in the regions would do well to harness our basic instincts and look sharp on their campaign posters.
The top of the pop
But how do you do that exactly? Of course you can put on a shirt and tie and get a professional photographer, but does not everyone do the same?
This is not just about a short back and sides – it's about standing with your head and shoulders above the competition. You want to be Coca-Cola, Nike or Apple for personal branding … and that means taking risks.
That's what these 12 candidates, all of whom have gone out of their way to capture the attention of their constituents, are probably still telling you.
---
Allon Hein Sørensen; Alternative in Furesø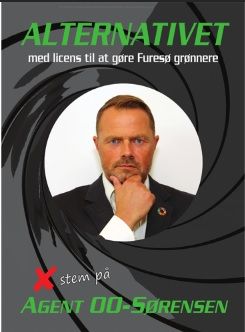 "I try to make my opinion known as a blogger and debater in the digital universe, especially on social media," explains specialist agent 'Agent 00 Sørensen', who is a software specialist on a daily basis. He calls for "municipal debureaucratisation" and "more political transparency", as well as banning austerity measures in the welfare sector. Catch him freediving with a harpoon in Furesø Lake, parachute into government complexes at night or in one of the municipality's many local social clubs.
HP Beck; Liberal Alliance in Aalborg
By lace up a pair of boxing gloves for his campaign poster, commercial pilot HP Beck, 38, is literally fighting for our social rights. "I worked as a care assistant for almost 15 years for disabled children and adults," he says. "I have been 'on the floor' – I have seen what happens when disability funding is cut and administrative requirements increase." He stands for "realistic proposals for the country's problems", and he calls the light rail a "strange project" and a waste of taxpayers' money.
Rolf Bjerre; The Christian Democrats in CPH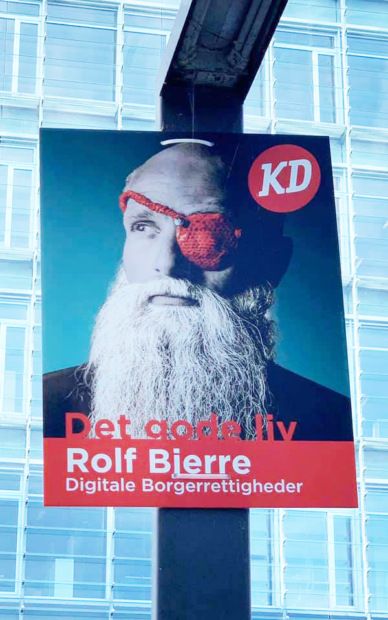 Let's not do anything about it, Rolf Bjerre is a badass. First, he has an eye patch on. Secondly, he fights for "a proper digital foundation in Copenhagen and Denmark" and mentions Edward Snowden as one of his political role models. He wants to reorganize the capital's digital infrastructure and encode it using open source code, "so everyone can see how our data is processed", and to incorporate digital civil rights to help us navigate the coming digital age.
Andreas Karlsen; Conservative in Ringsted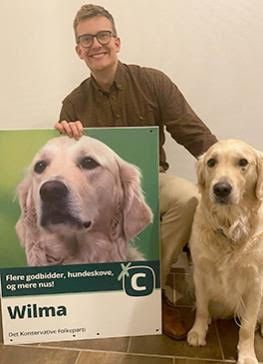 It is clear that the rules for election posters are loose, but a candidate must at least be a human being, right? Well, no, as Andreas Karlsen has proven with his campaign billboard with his dog, Wilma. "Ringsted must be on the map! It is time for greater ambitions for Ringsted municipality, "says Karlsen. When asked who should be mayor of Ringsted, he answered "Andreas Karlsen". Wilma, a golden retriever, did not have much to add about the case. Maybe she supports the Unity List.
Thomas Simone Maare; Radicals in Tårnby
"I am a non-binary trans person, born in 1968, married to Åsa and have two boys aged 13 and 15," says Maare, who holds the fort as the only trans-identifying election candidate. Their policies focus on urban communities with space for everyone – "because it's so important that we interact across social strata," they explain. Maare has 26 years of experience working with urban lighting – half of which has been in project management of construction of energy-saving lights around Copenhagen.
Malte Jäger; New Civic in Kerteminde
19-year-old Malte Jäger takes the 'sex seller' approach by wearing an upper body on her election posters. To be fair to the man – he is skinned. Unfortunately, his policy is smaller. "Roughly speaking, all taxes must go down", and "basically municipalities, regions and the state decide too much", he states. Did he write them at the last minute when the teacher came to pick them up? Jäger wants less state control, but has no idea how or why. Once again for those at the back: he is absolutely peeled.
Claus Skjoldborg; The Social Democrats in Odense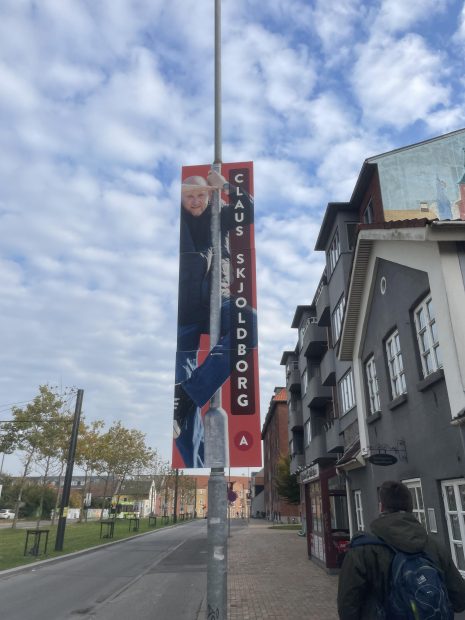 HP Beck can fight in the ring against this challenger. "I'm probably the hardest hit municipal politician," says Claus Skjoldborg, who is both a city council member and a Mixed Martial Art fighter. He is the CEO of MyFightBook – a digital platform that connects MMA federations, clubs and fighters. Skjoldborg wins this year's Most Creative Billboard award for wrapping himself around a lamppost as a person who is performing a wild elbow drop from above passing voters.
Jens Andersen; TA in Middelfart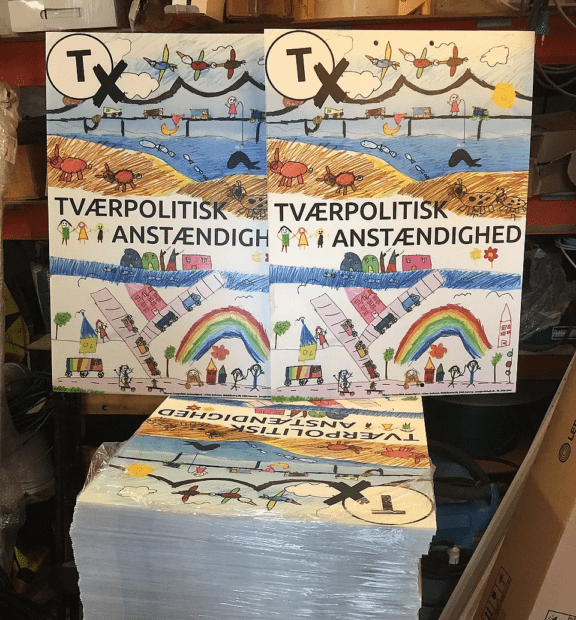 Instead of the face, Jens Andersen has chosen an illustration by six-year-old Sally Nyhus Madsen of what should be a good municipality. Marine animals, rainbows, cows, pigs, beaches, roads and bridges are of great importance – although Andersen's election promises are more focused on improving communication between city council chairmen and local citizens and supporting core welfare services. It is still unknown whether he will implement the controversial pig-on-street coating.
Per Clausen; The Unity List in Aalborg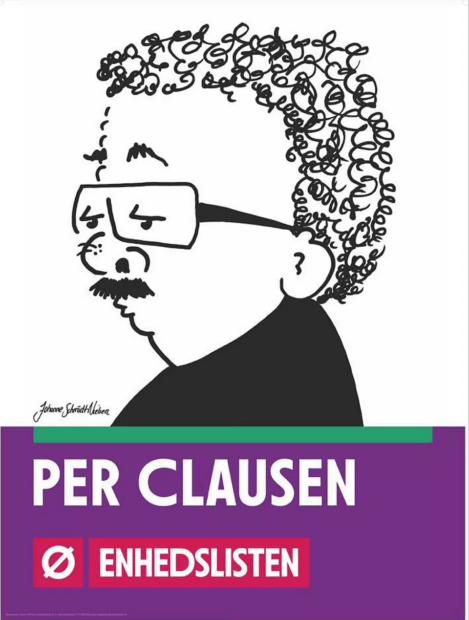 Per Clausen's black and white cartoon election poster has become a cult image in Denmark. Written by Johanne Schmidt-Nielsen, a colleague of Clausen in the Folketing, appealed to the cartoon Clausen so much that he decided to use it in his campaign back in 2017. Fast forward to today: if it is not broken, do not join to fix it. Clausen, who was a member of the Folketing from 2005-15, now sits on Aalborg City Council, where he has represented the landscape, elderly and disability and school committee.
Yasser Ghanbari; SF in Copenhagen
"I myself have been diagnosed with bipolar disorder and therefore know how difficult help can be to find when one is mentally vulnerable, and I know the stigma that people with mental illness face," says Ghanbari, who advocates for increased research and support around mental. health, more affordable housing and more free art on the streets. Ghanbari has set a good example by publishing a series of artistic election posters adorned with paintings of local areas referring to film, art and modern technology.
Chris Veber; DF in Guldborgsund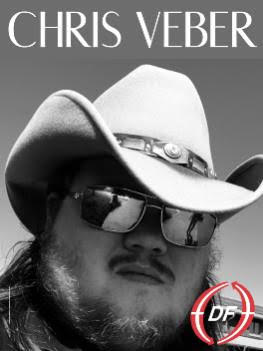 Here's a lot to unpack: the cowboy hat, the mirrored shades, the nostalgic black and white, the harsh grimace and 'CHRIS VEBER' in cinematic writing. Pictures speak more than words, and Veber seems to say "There is a new sheriff in Guldborgsund" and "I run a meme page". Whatever he communicates, it is a trait of power – just like his role model, Nigel Farage. "He has fought for his cause and reached it. That must be respected, "says Veber about the very disliked ex-Brexit party leader.
Alexander Ryle; Liberal Alliance in Copenhagen
Who is the mysterious Alexander Ryle who has no picture at all? With a poster as personalityless as a PowerPoint slide, he might have felt that his face would distract from his political message. Maybe he could not get a babysitter the day they shot the portraits. Or maybe he's just a rebel without one… Whatever the reason, an unalloyed quote about society that hangs gently next to a traffic light wins no point for the visual. Ryle wants more affordable housing and more welfare spending for vulnerable citizens.
Michael Staal-Olsen; Mexican election party in CPH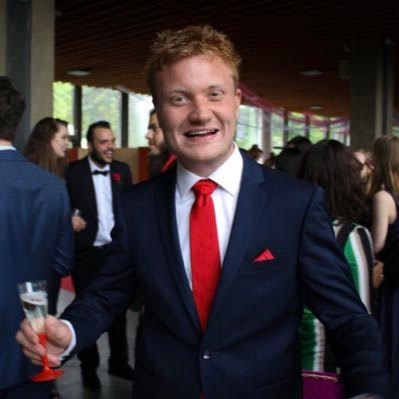 The party 'Election Party with a Mexican theme', led by Michael Staal-Olsen, delivered its only policy on Saturday by holding a Mexican election party. In that sense, it has reached 100 percent of its election promises ahead of the vote. Impressive. Staal-Olsen invited a food truck to participate and rattled 5,000 kroner from the party support pool, while a piñata was donated by the Mexican embassy to the event. So a bit like Shrove Tuesday meets Mexican Day of the Dead.
Janus Boye, Social Democracy in Aarhus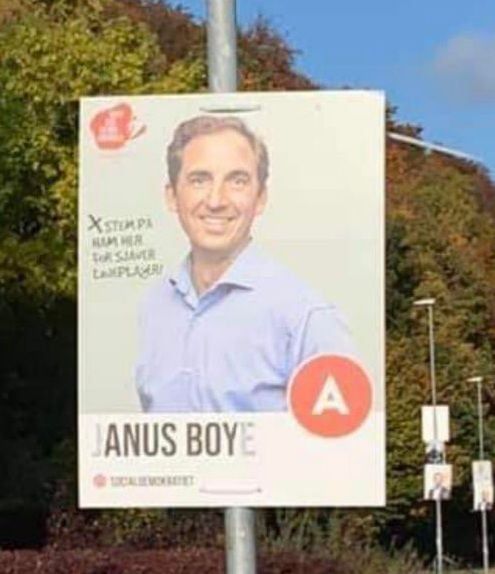 When Janus Boye's election posters were 'changed' to read ANUS BOY just four days after going up, Boye offered a somewhat confusing explanation: the ink forming the letters J and E was unable to tolerate sun exposure. "My first thought was how embarrassing," he told Ekstra Bladet. The jury is out on whether his next move was defiance or self-sabotage: "I was considering taking them down, but then a friend said to me, 'it's fun, let them stand,' so I did."
Source: The Nordic Page