If you plan to train more and improve your fitness in 2022, you really are not alone. Surveys have consistently shown that the most common New Year's resolution for Finns is to improve their condition 37 percent 34 percent of Finns decide to lose weight and 30 percent strive to improve their diet.
However, only about one in four Finns who make a New Year's resolution keep it completely.
A similar survey on the subject Finnish Diabetes Association also puts fitness at the top of the New Year's wish list. At the same time, data from health authorities in 2020 show that only 39 percent of men and 34 percent of women met THL's minimum exercise recommendations.
The pandemic has also had a significant impact on the health habits of Finns. Pauli Komonen, A VTT researcher who conducted a study in Finland last year pandemic lifestyles, says that many have exercised more for health reasons "wake up call" presented by Covid.
"People are thinking about their health from new perspectives, and many have practiced much more to reassess their priorities because of the pandemic," Komonen says.
The story continues after the picture.
However, he still warns that the much-lauded rise in fitness during the pandemic era conceals some differences within the Finnish population.
"The human context during a pandemic has affected his reaction and condition. We have found that before busier families, there is now more time to focus on fitness and well-being. However, young students living alone have not always been more successful because it may be more difficult for them to stay motivated," Komonen explains.
"We also see that older people face unique challenges in this area because it is much harder for them to start anything new in terms of exercise or the use of public spaces."
The data also show how the ability to stay fit and motivated is regulated by many contextual factors. Studies have shown that men are much more likely to be incapacitated for work than women and that foreigners living in Finland are less mobile and worse health effects than the indigenous population.
Since the beginning of the new year is traditionally a time when people invest in fitness, we asked Finnish fitness experts for advice on how to stay fit.
So how much should you move in during the new year? Sari VirtaThe Chief Inspector of the Department of Physical Education of the Ministry of Education and Culture says that although Finns do not exercise enough, the actual health recommendations are not so demanding.
"Mobility in Finland is too low in all age groups. For adults 1 hour and 15 minutes of strenuous exercise per weekor 2 and a half hours of brisk exercise is enough. The disappearance of everyday mobility from work or being in the office caused by the pandemic means that Finns have to make up for the deficit in other ways," Power says.
The story continues after the picture.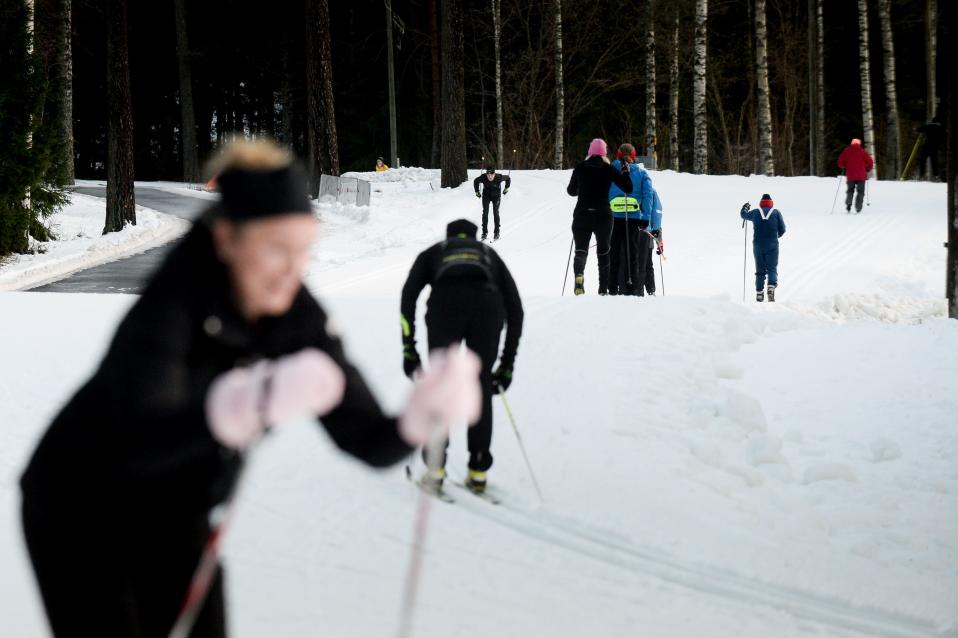 He adds that practicing with a friend can provide a great motivational input, and adds that just playing for a friend on a walk or jog can be vital. "peer support".
Finally, Virta recommends that first-timers start easily and know their limits before gradually increasing the amount of exercise.
"The experiment works. One basic rule is that a new sport or form of exercise and its rhythm should be tried for at least a month before the effects begin to be felt. For example, if you decide to go from walking to running, start with a combination of the two, try two minutes of walking and then two minutes of jogging, and so on.".
There are some concrete tips to follow if you want to continue this work.
Set concrete, realistic goals
58 years old Harri Hänninen, a retired professional long distance marathon runner who is still an active fitness enthusiast, says that setting realistic goals and your own "starting situation" plays an important role in achieving your fitness decisions.
"People who train regularly are usually the ones with concrete goals. In training, a simple goal like "I do three workouts a week" is an easy way to do it," Hänninen advises.
The story continues after the picture.
"Training is also worth keeping in your comfort zone. Your current fitness is crucial when you start training, and you need to be patient when your body changes with increased exercise and as your fitness begins to improve.".
Hänninen also warmly recommends "brisk walking" as a training activity because it is free and the barrier to entry is low.
Work out with a friend
Mikael Sundberg, A 24-year-old influencer inspired by fitness Instagram page has over 152,000 followers, says a guy who can keep you motivated is key to achieving your fitness goals.
The story continues after the picture.
"If you make friends with you, you can do anything. It always makes it more fun, and you can try a variety of activities such as the gym, paddle, golf or climbing." Sundberg says and adds that tracking progress can keep you motivated to keep going.
"Change is important. The first time you see yourself lifting weights you could never have imagined lifting, or making a certain number of pulls, is when you see that you are getting fit".
Keep it versatile
Nino Arling, 24 years old Only Toker and Instagrammer who often publishes videos of him and his friends performing adrenaline – boosting dives (a hobby known as. "death dive") says that keeping things fresh and exciting is the key to keeping you motivated throughout the year.
"My best advice is to keep your fitness hobbies varied. There will always be times when you get tired of going to the gym, diving or dancing. When you start to get bored, try something different that feels exciting and new".
The story continues after the picture.
Arling also has advice for those who may have difficulty getting out of bed and going to the gym on dark and cold winter mornings.
"The darkness of Finnish winter can easily make you lazy. Here, the mindset is really important. Instead of forcing yourself to get up and go when you really don't feel like it, you should instead try to get a more positive mindset and then go to practice only when you feel like it." Arling says.
You don't have to spend a lot of money
Former Finnish Olympic weightlifter Anni Vuohijoki, 31, who also runs Process, a fitness center in Helsinki, offers advice to those who may feel that they cannot afford to spend money on gym memberships or expensive fitness equipment.
The story continues after the picture.
"In Finland, you can find everything you need cheaply in the gyms and sports facilities of your municipality. You can also work out in nature, and there are plenty of outdoor gyms to use for free. You can also save money on nutrition, for example, by using cheaper frozen vegetables instead of fresh ones," Goat River says.
For those who may feel self-confident in public practice, Vuohijoki recommends using the gym initially during off-peak hours, but points out that "After a while, you find that people don't pay attention to your appearance".
Source: The Nordic Page