Wholesale electricity prices in Finland rose to a record high as the electricity market returned to pre-pandemic levels in 2021, according to recent statistics from the energy organization Suomen Energia.
The increase in wholesale prices was reflected in an increase in household bills, especially for consumers who had opted for a market-based electricity contract or a tariff for the time being.
Exceptional market conditions at the end of the year raised the average price of electricity to EUR 72 in 2021. Wholesale prices in the area are set by the Nordic power exchange Nord Pool.
"Wholesale prices have been at an unprecedentedly high level for a long time. It is possible that severe frost temperatures could cause new price spikes," Jukka Leskelä, The CEO of Suomen Energia said.
However, according to Suomen Energia's data, the total price of electricity including taxes in Finland is at a reasonable level for consumers compared to other European countries.
In the first half of 2021, a household consuming 2,500–5,000 kWh (kilowatt-hours) of electricity in Finland paid an average of about 17 cents per kilowatt-hour.
Electricity prices in Europe were highest last year in Germany and lowest in Hungary, where households paid just over 30 cents per kilowatt hour, which is three times the price in Hungary.
Suomen Energia's statistics do not; however, reflects the sharp rise in electricity prices at the end of the year.
Renewable energy helped cope with increased demand
After the recession of 2020, electricity consumption in Finland increased in 2021, driven by the cold winter and increased industrial demand.
According to Suomen Energia, renewable energy covered half of the increase in the country's electricity consumption last year and half through imports.
Wind power capacity increased during the quarter, but production remained unchanged due to weak winds. However, hydropower production was higher than before and bioenergy replaced a significant part of peat in energy production. The share of peat decreased by 2 percent last year.
Carbon emissions from energy production remained at 2020 levels last year; however, due in part to a slight increase in coal use compared to previous years.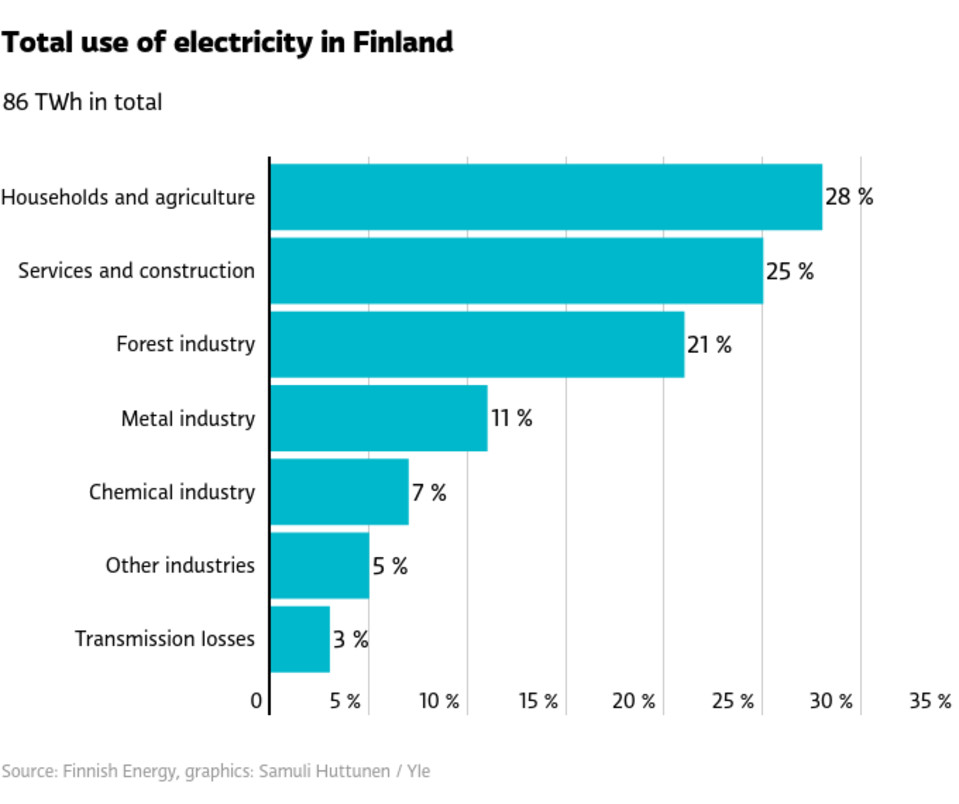 Growth in electricity imports and exports
Electricity imports returned to pre-pandemic levels in 2021 and covered one-fifth of Finland's total energy consumption. Although most of Finland's imported electricity was still accounted for by the Nordic countries, imports from Russia grew the most.
Despite rising prices, Estonia imported more electricity from Finland last year than ever before. It also increased its imports from Finland in the previous year, as emissions trading has significantly increased production costs.
Estonia imported as much electricity from Finland as from Russia in 2021.
Leskelä estimates that the import and export volumes of electricity will be at the same level within a few years.
"Imports and exports will reach a plateau as wind power production in Finland increases and Olkiluoto 3 accelerates," he noted. The Olkiluoto 3 nuclear reactor received the green light to start operations last year.
Source: The Nordic Page