Among the ten most vulnerable countries
Many people in Denmark happily use Facebook without having any idea how their data is collected by the social media platform, according to a NordVPN survey.
Only 57.7 percent of the survey respondents from Denmark were aware that their data was collected, and only 46 percent have the knowledge to adjust their settings to ensure their privacy – for example, using VPN connections, proxy servers and TOR browsers
In fact, Denmark is listed by the report among the ten worst countries in the world.
The other nine other countries were: Australia, Canada, the United Kingdom, France, India, Turkey, Saudi Arabia, Sweden and South Africa.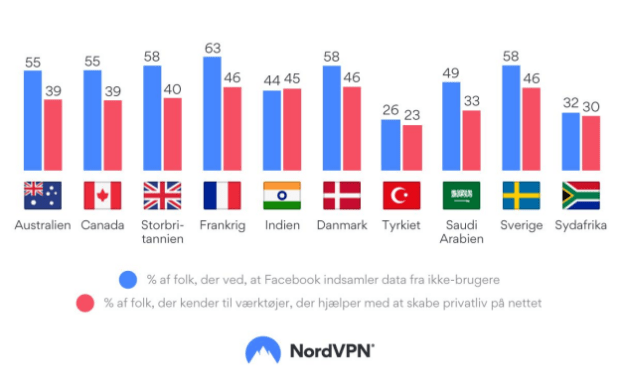 Collection of data on persons without accounts
Facebook is also able to store data about people who do not have accounts – something that the majority of Danes are not aware of despite the fact that Facebook's top manager Mark Zuckerberg confirmed the possibility in April 2018.
"Even if you are not an active user or even have an account, your data and personal information are probably not as private as you imagine," commented Daniel Markusson, digital privacy expert at NordVPN.
"Maybe you think it does not matter so much whether your social network knows your IP address, workplace or telephone number. But what if a cybercriminal knows about it? If we take Facebook's history of data leaks and security flaws into account (including the most recent one, which occurred in April 2021), then we can never be sure where our personal information will end up when we pass it on to Facebook. "
Time to take the advice seriously?
Facebook, the world's most popular social media platform, currently has just over 2.85 billion monthly active users. In March 2019, Denmark accounted for 3.601 million of them – 61.5 percent of the entire population
But it also collects data from non-users: primarily from their browser history and from their friends' activity.
NordVPN (it does not do the survey for free!), A well-established VPN service provider, advises Facebook users to use its Threat Protection feature, which helps block the platform's pixels and tracker cookies and thus prevent it from tracking you on websites who use its plugins.
For more of NordVPNs advice, check the fact box below.
Source: The Nordic Page