Protesters took to the city streets around Finland on Thursday to protest against Russia's military attack on Ukraine.
Police estimate that about 1,500 people gathered for a peaceful demonstration in front of the Russian embassy in Helsinki on Thursday afternoon.
The protesters shouted slogans e.g. "Alas Putin" and "Russia out" and a Finnish hip hop musician Kalpeanaama (Real name Karri Miettinen) sang Pete Seegeranti-war song "Where all the flowers are gone".
He told Yle he was "upset" Because of the Russian invasion.
"I'm really worried, so it was important for me to come sing a couple of peace songs," he said. "I was born in the late 1970s and this is the worst situation of my life. We are close to World War II."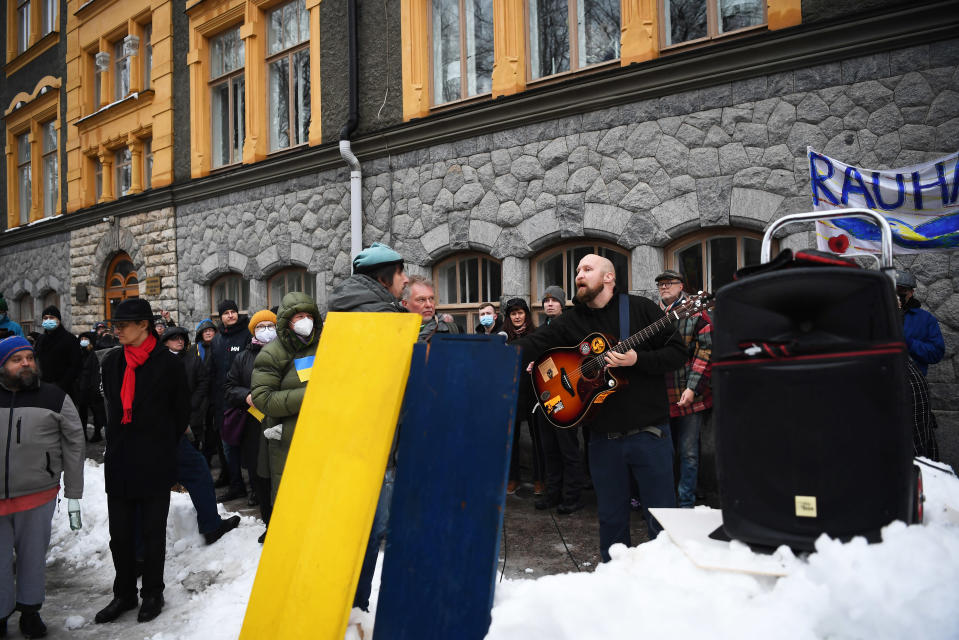 Anni LahtinenThe Secretary-General of the "100 Committee" (Committee of the Hundred organized the event), told Yle that events in Ukraine have made people act.
"This situation is truly exceptional. Now it really feels like war has come to Europe." he said.
Former Member of Parliament and former Deputy Minister of Finance Arja Alho (SDP) also took part in a demonstration in Helsinki.
"This war is a terrible thing, I am shocked. Hostilities must end, so I can do this as a citizen," Alho said.
Elena TuomikoskiA Russian citizen living in Finland also took part in the protests, saying the conflict "destroy the lives of many".
"No one wants a war except Putin and his criminal gang. The Russian people do not want war," Tuomikoski said.
Tampere: "Nothing is achieved with war"
Hundreds of people also gathered at Tampere Central Square to protest against the Russian attack.
Many participants wore signs while reading "By agreement, not by war" (Translation: "By Atonement, Not By War").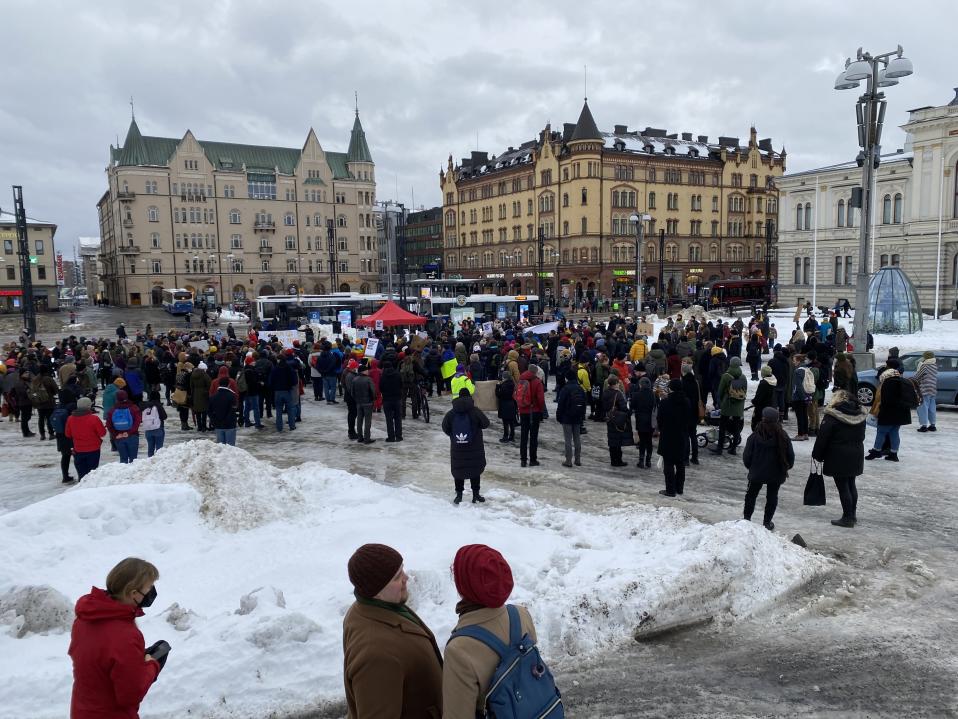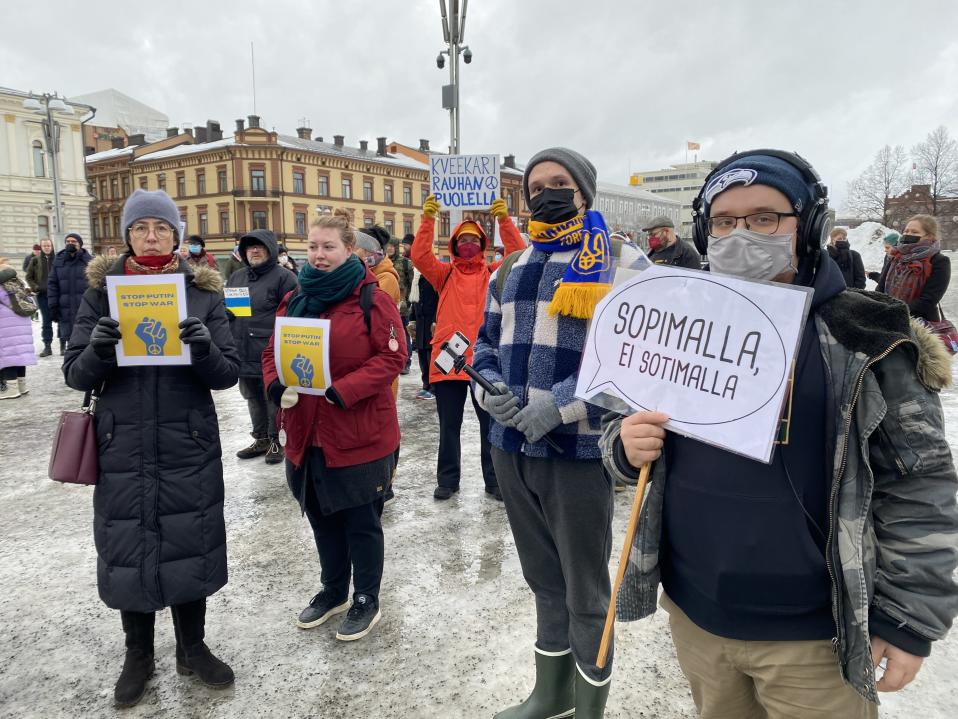 Aku Kervinen The Finnish branch of War Resisters' International told Yle that the group has close ties to the organization's Ukrainian and Russian branches.
"The first important step would be to say that nothing will be achieved through war. The responsibility lies above all with Russia, which has started a state of war." Kervinen said.
Yle also spoke at the protests in Tampere Artem SchcepkinA Ukrainian basketball player who has lived in Tampere.
"I was shocked this morning. My family, including my parents, and many of my friends live in Ukraine. We don't know what to do," Schcepkin said, adding that there is a lot of confusion and uncertainty among his compatriots living in Tampere.
"We do not know what our future will bring when it comes. What can be done next? Putin can march anywhere," he said.
Demonstration in Joensuu
About 100 people also took part in a similar event in eastern Joensuu.
Yle reporter on site Emilia Saukkonen said that was "anxiety, insecurity and uncertainty" among the people present.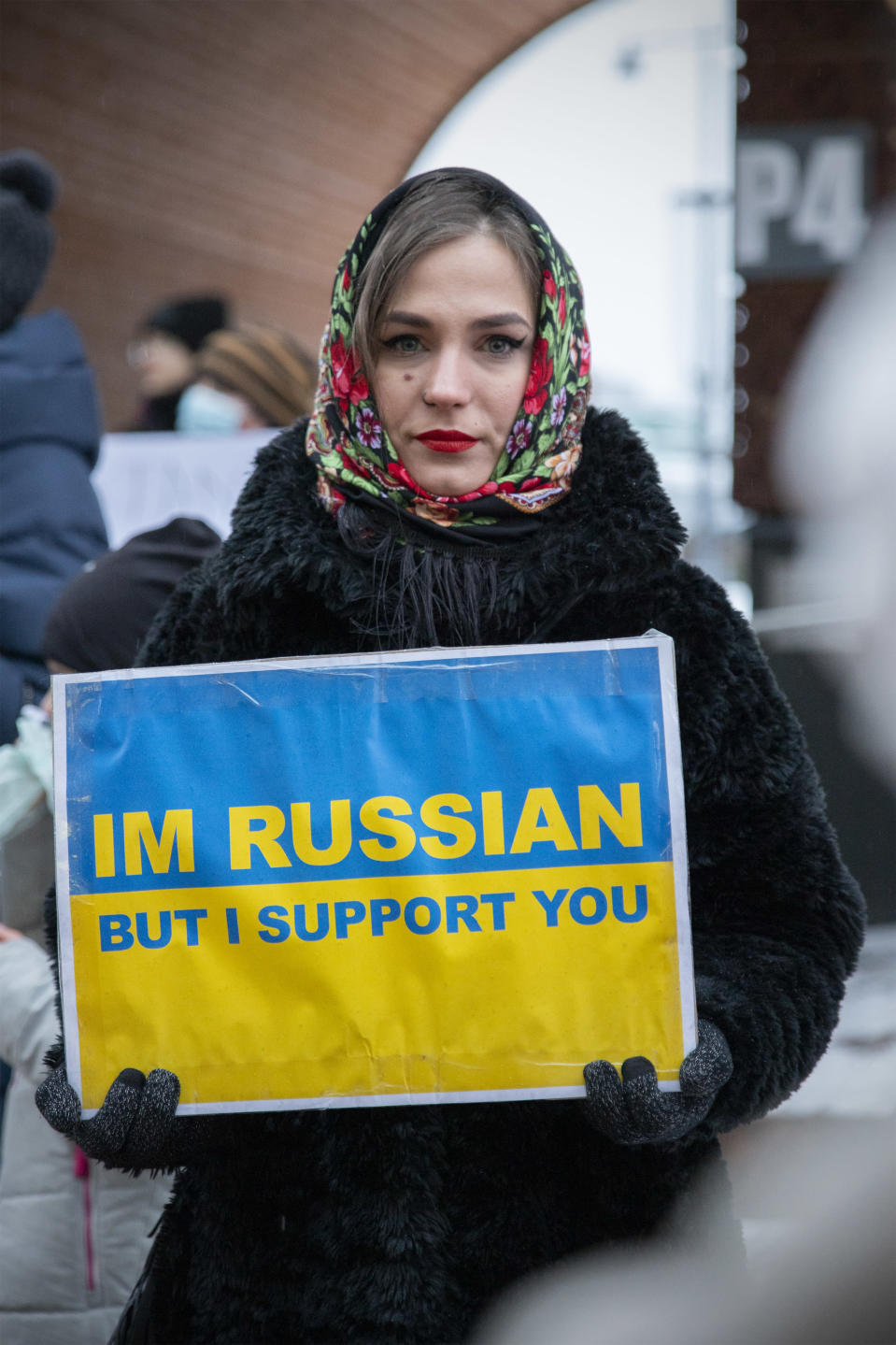 Finnish buildings illuminate in blue and yellow
As a sign of solidarity with the Ukrainian people, many Finnish buildings were illuminated on Thursday with blue and yellow lights – the colors of the Ukrainian flag.
This included the Foreign Ministry's Merikasarmi building, originally built for the army of the Russian Empire on the Katajanokka Peninsula in Helsinki, and Helsinki City Hall.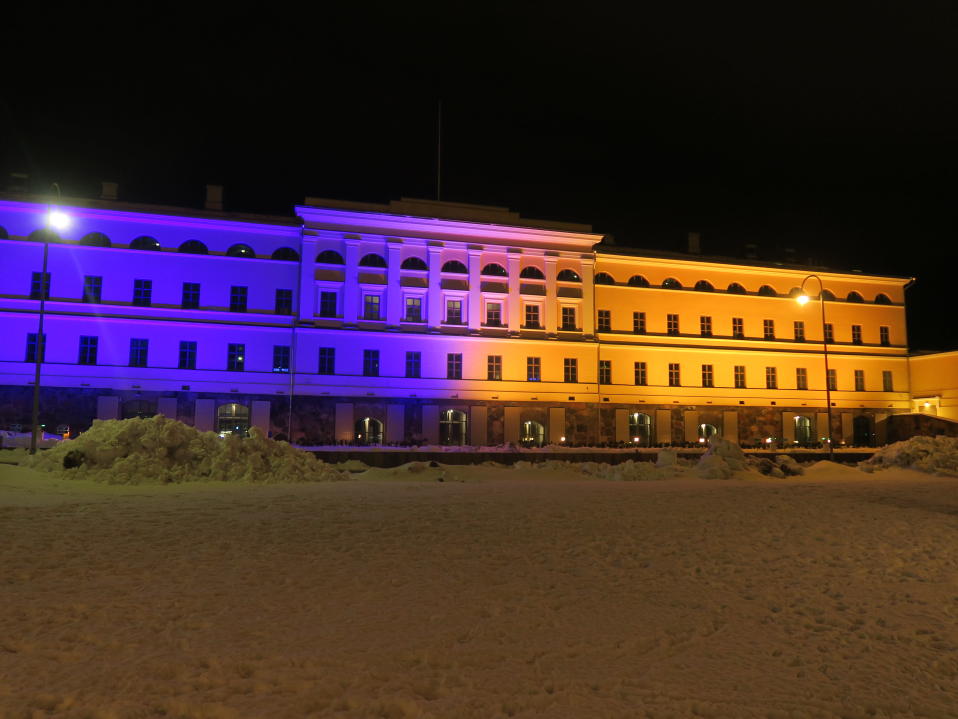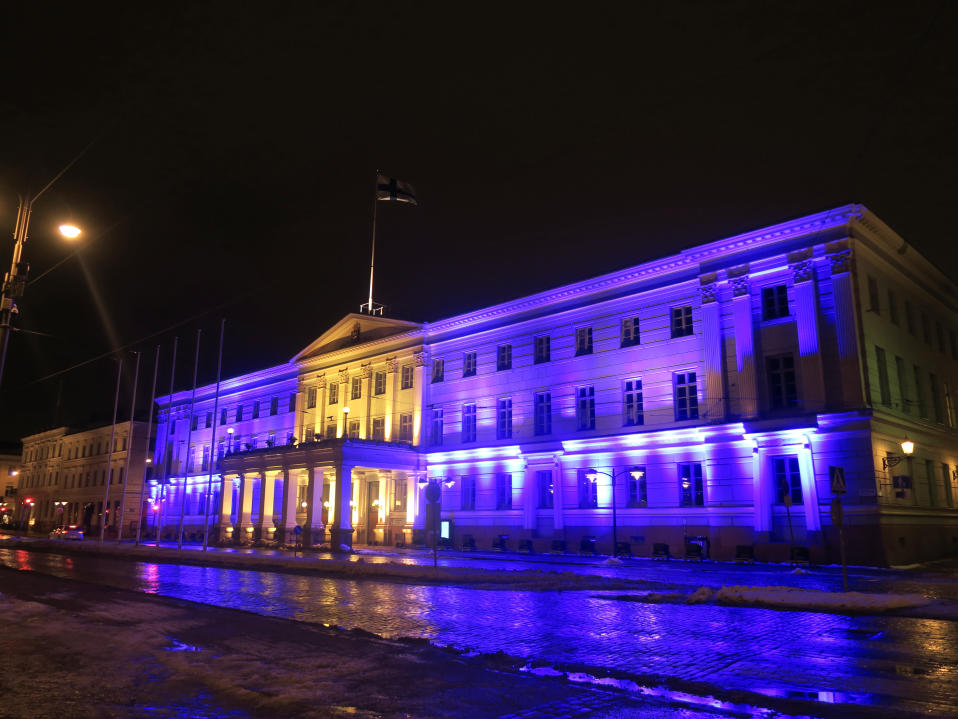 Finland strongly supports Ukraine's independence, sovereignty and territorial integrity, the Foreign Ministry wrote on Twitter.
In Tampere, the city's iconic Tammerkoski lit up blue and yellow on Thursday under the leadership of the mayor. Anna-Kaisa Ikonen (NCP) writes on Twitter that the gesture was intended "to express Tampere's support for the people of Ukraine, our sister city of Kiev and all those affected by the war".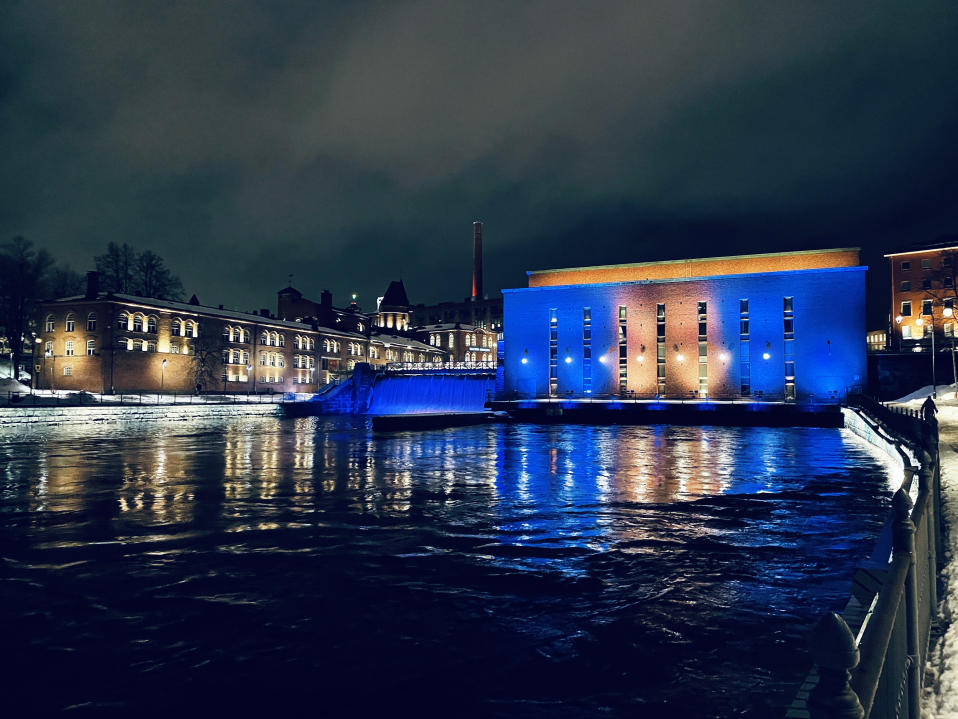 Source: The Nordic Page