On Thursday, Denmark promised to increase its contribution to NATO forces by sending about 200 soldiers to Estonia along with two F-16 fighter jets to the police in Polish airspace.
Prime Minister Mette Frederiksen also announced that preparations will be made to receive Ukrainian refugees while humanitarian aid is sent to Ukraine and its border countries.
Take individual action
But you can also support Ukraine through individual action. If you are in Denmark, you can provide equipment to local aid organizations, donate to Ukrainian NGOs, sign petitions, submit works of art to raise awareness and inform yourself through reliable news sources.
This war is going on right outside the door. Read on for information on how to do something.
Support Danish-based aid organizations: Preserve Ukraine
On Friday, the leader of the Danish NGO Preserve UkraineAndrii Kuzmyn, spoke at a demonstration outside Christiansborg (see photo below) to gather support for the organization.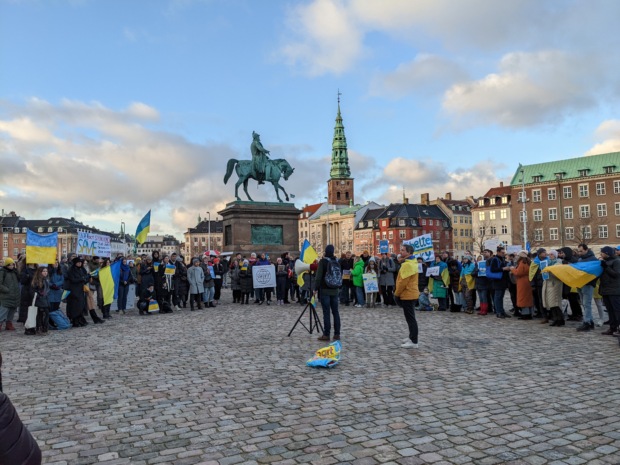 Preserve Ukraine sends trucks loaded with medical cargo from Denmark to Ukraine. Since 2014, it has delivered 54 trucks and two aircraft to various parts of the country, benefiting about 255 training and medical facilities.
Already this year, Bevar Ukraine has sent three trucks to the Cherkasy, Donetsk and Ternopil regions with, among other things, hospital beds, wheelchairs, bicycles, blankets and care equipment.
Donate to Save Ukraine by clicking here. You can make a one-time deposit, or become a member for 100 kroner a year.
Support Danish-based aid organizations: Danish Refugee Council
The DRC has 230 workers on the ground in Ukraine. The organization coordinates with the UN Food Program, distributes cash grants and helps provide shelter and emergency relief.
In Denmark, it will provide asylum counseling and delegate welcome receptions and support through its voluntary network to refugees arriving from Ukraine.
You can donate to the Danish Refugee Council here and sign up to volunteer here.
Foreign support: Medical supplies and humanitarian aid
Nova Ukraine provides citizens with daily necessities such as baby food, hygiene products, clothing and household items. Donate here.
People in Need is a Czech organization that provides food, emergency shelter, drinking water, coal and hygiene items to over 200,000 people. With a population of over 130,000, Ukrainians are the largest national minority in the Czech Republic, according to Al Jazeera, and a large influx of refugees is expected. Donate to people in need here.
The Ukrainian Red Cross distributes a wide range of humanitarian aid from medical training to providing shelter. Donate here.
Overseas support: Support the Ukrainian military
The English-language newspaper Kyiv Independent has a platform for the work of Come Back Alive, a Kyiv-based charity that has gained a reputation over the past eight years as one of the most credible and responsible charities working for the military in Ukraine.
Get back alive supplies the Ukrainian military with auxiliary equipment, specialized software, drones, personal body protection, training and other supplies. Donate and view their financial reports here.
Help children affected by war: UNICEF Ukraine repairs schools that have been damaged by bombings and cares for children trapped in the conflict. Donate here.
Support journalism: The independent Kiev was "created by journalists fired from the Kyiv Post to defend editorial independence". Donate to its Patreon or GoFundMe gathering to keep it broadcasting the truth.
The world of Ukraine is an independent English-language publication founded by volunteers who helped international journalists during 2014 'The Revolution of Dignity'. You can donate to it Patreon.
Read trusted news sources (see below): share the Ukrainian story of the war and counter disinformation by following and sharing reliable news sources.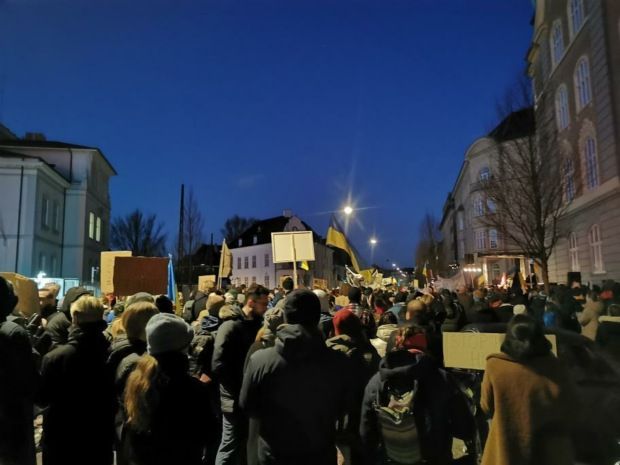 Local support: restaurants, artists, technical assistance
Copenhageners: On Sunday 6 March, the local favorite Amager restaurant Il Buco donates today's revenue to the Danish Refugee Council to support their work in Ukraine.
What better excuse to enjoy Il Buco's local organic menu, natural wine list and own bakery? click here to book a table.
Ukrainian creative agency The Port Authority has issued a callout for posters, videos and appeals to be posted on their Facebook and Instagram platforms. Post to [email protected].
Lee Wood, a Briton based in Denmark, says yes computers, phones, MP3 players, game consoles and games, whichever he wants clean, delete and install Windows 10 or 11 in English, or on older machines a version of Ubuntu, together with a Ukrainian language package. Donations are welcome in the evening (only by appointment via [email protected]) or per. mail: GLS Pakkeshop, Midt-Tech C / O Lee Wood, Hammershusvej 72, 1tv, 8210 Aarhus V.
Petition support: Encourages NATO and Parliament
A petition has been launched to call on NATO to close Ukrainian airspace. This petition is addressed to the European Parliament's Committee on Petitions. Now 21 of the 27 European member states are in NATO. So European nations make up about two-thirds of the alliance's total of 30 members.
In the absence of the possibility of directly submitting petitions to NATO, submitting petitions to the European Parliament may be the most effective channel.
The portal for submitting citizen proposals to the Danish government is here. When a petition is signed by 50,000 Danish residents with the right to vote, it will be submitted to the Folketing for debate.
Source: The Nordic Page