For full coverage of the crisis in Ukraine, visit Flash point Ukraine.
For the latest developments of the conflict between Russia and Ukraine, constantly EST:
01:30: As civilians in Ukraine bear the brunt of Russian artillery attacks, the White House announced that President Joe Biden will travel to Brussels next week to coordinate deterrence and defense efforts with NATO allies. VOA senior diplomatic correspondent Cindy Saine reports.
Embed Share Biden travels to Europe next week – Zelenskyy addresses US Congress Embed Share The code has been copied to your clipboard. width px height px
The URL has been copied to your clipboard
No media source available at this time
0:00 0:03:12 0:00
01:00: In his latest Facebook speech, Ukrainian President Volodymyr Zelenskyy offered a more optimistic assessment of the peace talks with Russia. He said negotiations are beginning to "sound more realistic, but time is still needed."
The talks are scheduled to continue today. Ukrainian negotiator Mykhailo Podolyak also said there was "room for compromise" while warning that "fundamental contradictions" continue to emerge during the talks.
Russia has repeatedly insisted that Ukraine allow the provinces of Donetsk, Luhansk and Crimea. It has also insisted that Ukraine renounce all intentions to join NATO, something Zelenskyy has appeared willing to do.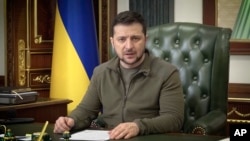 In this video from a video provided by the Ukrainian President's Press Office and published on Facebook, Ukrainian President Volodymyr Zelenskyy speaks in Kyiv, Ukraine, early on Wednesday, March 16, 2022. (Ukrainian President's Press Office via AP)
12:40: A funeral ceremony was held in the western Ukrainian city of Lviv on Tuesday for four Ukrainian soldiers who lost their lives after the Russian invasion.
00:00: On Tuesday, US Secretary of State Antony Blinken expressed his condolences to the journalists who were killed in Ukraine on Monday.
"I am grateful to all those who risk their lives to show the world what is happening in Ukraine. The United States condemns Russia's ongoing violence, which puts the safety of journalists and other media workers in Ukraine at risk."
Journalists Pierre Zakrzewski and Oleksandra Kuvshynova were killed in an attack that also seriously injured Fox News correspondent Benjamin Hall.
The American television company Fox News announced on Tuesday that the cameraman Zakrzewski had died in Ukraine. Kuvshynova, a 24-year-old Ukrainian journalist, was also killed in the same attack.


Fox News cameraman, Ukrainian journalist killed in Ukraine



VOA News

Subscribe
Source: sn.dk