A rash of English-language theater performances is on its way to Copenhagen in front of CPH Stage in early June, and starts this Saturday with the opening night of 'Shirley Valentine', Willy Russell's highly acclaimed one-woman show from the 1980s.
The London Toast Theater production with Vivienne McKee in the lead role continues until 14 May at the Theater at Sorte Hest. Book tickets here.
Evening with Dick guaranteed
But if you prefer your monologues to be male rather than female, hang out in the foyer of the same theater, as just two days later you will be able to capture 'Dick', the latest Tanja Mastilo play for Why not theater companyfrom 16.-19. May.
McKee's Crazy Christmas Cabaret co-star Andrew Jeffers is the self-deprecating title character who reflects on how his life / sex life has been ruined by the sexual stereotypes he discovered in porn as a young man… and other relationships. The play will also be performed at The boat theater in Nyhavn from 5.-9. May.
Two more bites
On the same theateryou can watch 'One Woman Show: A Mini Theater Festival' – a series of female monologues from 29.-30. April: 'COEMA – A Brazilian Fairytale', 'CASA' and 'The Journey of a Warlike Mind' (see image below)).
And a day earlier Gather the Theater Collective presents another of his 'pay what you decide' productions at the Literaturhaus.
'New Name, New You' stars Aragorn Xavier Nikolei Damgaard in the lead role of creator and author Delia Trice and ATC boss Carol Hayes.
Tribute to Stephen Sondheim by new English-language musical group
Finally, we all know that English-language musicals are a rarity in Denmark. In recent years, the Copenhagen Theater District has performed 'Cabaret', and there have been several productions of 'Jesus Christ Superstar' by Teatret Gorgerne, but that's all: until now!
A new group, CPH Musical Theater Cohas confirmed that they will run their first shows at Metronomen in Frederiksberg on 5 May at 18.00 and 20.00: a tribute to the late Stephen Sondheim.
One of the co-founders is CTC chairman Rachel Kador, and for 'The Little Things We Do Together: A Tribute Concert for Stephen Sondheim' she is joined on stage by David Barrett, Dennisalia's Crystallando, Kristian Husted, Alexander Bastian Nielsen and Laurie Richards . Tickets cost 75 kroner.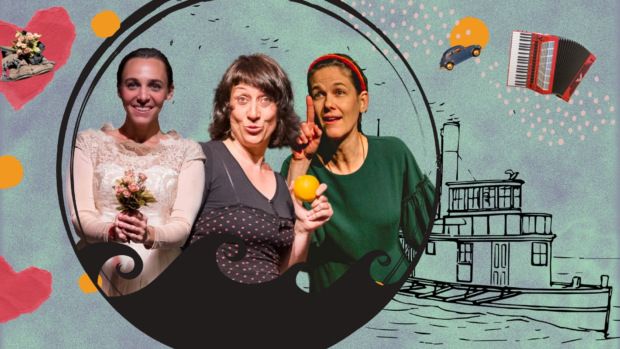 ---
Danish sculptor: Chinese authorities are only to blame for the fame of the work
The Danish sculptor Jens Galschiøt claims that the Chinese authorities have made a big mistake by removing his work 'Shame Pillar' from outside Hong Kong University in October last year. Since the removal of the eight-meter-long sculpture, which was made in 1997 to depict the Tiananmen Square massacre in 1989, in which many Chinese students were killed by the authorities, Galschiøt has been inundated with requests for replica versions. "They have made a big mistake," Galschiøt told Business Insider. "Now, instead of one, they get hundreds of shameful support." At his workshop in Odense, the 67-year-old is busy producing dozens of replicas and miniatures, approximately 250 and 30 cm in size. A group of former US government officials want to erect a full-size replica in front of the Chinese Embassy in Washington DC. There are also plans to display a statue outside the Nobel Peace Center in Oslo.
The super-high tower in Copenhagen Zoo offers the best view of the region this summer
If you thought the giraffes had the best view in Copenhagen Zoo, think again. For almost three months from June 9 to August 28, visitors to the area will be able to climb an 81 meter high mobile tower located in Søndermarken opposite the main entrance, which will give them a wonderful view of the entire city, most of Zealand, the Øresund coast, Malmö and southern Sweden. Situated on top of a hill, the zoo is already located on one of the capital's highest points, so 'Zoo Skyliner' will tower over people like City Hall and Parliament. Almost twice as tall as the Zoo Tower, it was originally built as a lookout tower used in the fight against poachers in Africa – especially in connection with the illegal killing of rhinos. Part of the proceeds from the tower will support Pilanesberg National Park in South Africa. Zoo Skyliner has previously visited Stockholm, Vienna, Brussels, Bonn and Luxembourg. It will cost 99 kroner to scale, with discounts for zoo visitors.
UK content streaming platform launches next week
A new streaming platform offering British-produced content will be launched in Denmark, Sweden, Norway and Finland on 28 April. BritBox's content is sourced from both the BBC and ITV, and will also be available to CMore subscribers. The four Nordic countries are offered the service in collaboration with four other European countries after a successful reception in English-speaking countries such as the USA, Canada, Australia and South Africa. Among the titles making their Danish debut will be Irvine's Welsh adaptation 'Crime', 'The Cleaner', 'Stonehouse', 'Line of Duty', 'The Thief, His Wife, and the Canoe', 'Sister Boniface Mysteries' , 'Anne', 'Idris Elba's Fight School', 'Hollywood Bulldogs: The Rise and Falls of the Great British Stuntman' and 'The Confessions of Frannie Langton'. The monthly expense in Denmark is DKK 79 or DKK 599 per year.
Four films with Danish input in battle in Cannes
'Holy Spider', a Danish-produced film about a serial killer who operates in early 1980s Iran, is in the fight to win the Palm D'Or at the Cannes Film Festival, which this year runs from the 17th 28. May. The Persian-language film is directed by Iranian-born Ali Abbasi, who graduated from the National Film School. It is the first Danish film to compete for the main prize since Nicolas Winding Refn's 'The Neon Demon'. Meanwhile, 'Godland', another Danish-produced film, directed by Icelandic filmmaker Hlynur Pálmason, is shortlisted in the Un Certain Regard category, while two Swedish films with heavy Danish input, Ruben Östlund's' Triangle of Sadness' and Tarik Saleh's' Boy from Heaven ', is also in contention for Palm D'Or.
The couple who love Lego so much that they have filled two homes with their collections
A story currently revolves around a Danish couple who are so obsessed with Lego that it was the main theme of their wedding in the North Zealand town of Frederikssund, where guests instead of rice threw Lego bricks when they left the ceremony. Line and Jannick own a total of 1,200 sets – 700 and 500 respectively – which they store in their home in Frederikssund and their holiday home by Billund, Lego's home. Watch the video below.
Liv Ullmann for a week's performances at Scandinavia House in New York
A screen legend is on his way to New York next month to attend a series of intimate evenings at the American city of Scandinavia House. Liv Ullmann, Swedish director Ingmar Bergman's favorite lead lady, will take part in five events between 23 and 28 May, exploring her life as an actress, director, author and humanitarian activist. The Swedish actress received an honorary Oscar at last month's ceremony.
Source: The Nordic Page