Did you know that Denmark is among the largest consumers of coffee in the world?
In 2019, the Danes were in a total of fourth place – they consume about 8.7 kg per person each year. Yes, people here can drink coffee pretty much any time of the day and occasion.
Another aspect that is increasingly weighing on consumers' minds is responsible supply chain management – a company's commitment to social and environmental efforts when dealing with suppliers.
Perhaps this is another reason why Valby-based Impact Roasters has quickly risen to become one of the most popular coffee bars in Copenhagen.
Its coffee beans come from Ethiopia, where the founder of Impact Roasters Daniel Balla Halalla comes from.
Impact Roasters negotiates bean prices directly with Ethiopian farmers, removes expensive intermediaries and ensures farmers a good price for their crops.
The company's embrace of fair trade also helps promote education, job creation and social projects in Ethiopia. You can read more about this at impactroasters.dk.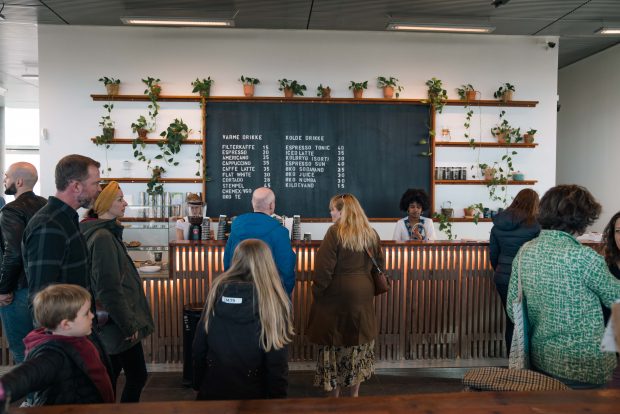 From Addis Ababa to Valby
Since the opening of its first store in Valby in 2017, Impact Roasters has opened two more stores in prominent locations in the Valby and Frederiksberg area.
It has just opened a new cafe at Flintholm Station on March 26 to supplement its existing locations at Valby Station and Langgade Station. Needless to say, it was a resounding success.
Halalla, who came to Denmark in 2012 after meeting his future Danish-Bosnian wife in Addis Ababa, grew up in the coffee-rich southern part of Ethiopia and was at a very early age exposed to coffee cultivation and processing.
When he moved to Denmark, he noticed that the coffee had a different taste – as it was sourced from other parts of the world, such as Brazil.
Frying up a dream
While studying economics at CBS, he started playing with the idea of ​​starting his own Ethiopian coffee business in Denmark.
That idea ended up leading to driving tests in Denmark and his first coffee shipment from Ethiopia, which arrived in Denmark in 2015, although it all did not go smoothly in the beginning.
"It was a big challenge to begin with, as we did not know the market. But we opened our first store and roastery at Langgade Station in 2017 and then at Valby Station the following year, "says Halalla to CPH POST.
Things slowly picked up from there, despite some expansion plans being put on hold due to the pandemic.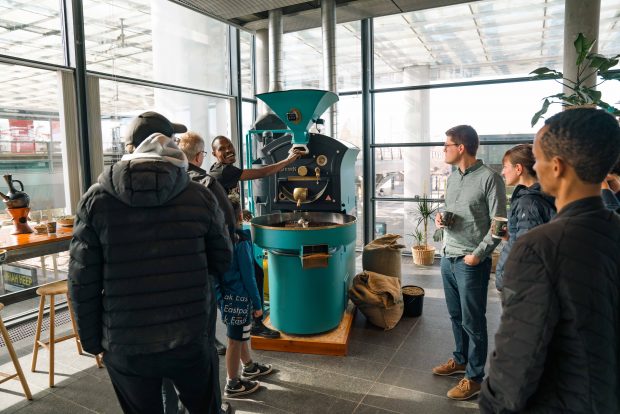 More than a cup of coffee
Halalla is currently on a business trip to Ethiopia – he travels there five to six times a year to oversee the coffee processing aspect of the company.
It also allows him to keep track of his fair trade model, which means working closely with farmers and helping them grow their businesses and communities.
"To create a long-term effect and at the same time deliver quality products to customers in Denmark: that's what it's all about," said Halalla.
"We want to tell our customers the story of how we bring coffee to Denmark: who are the farmers; who packs the coffee? It helps us make an impact. "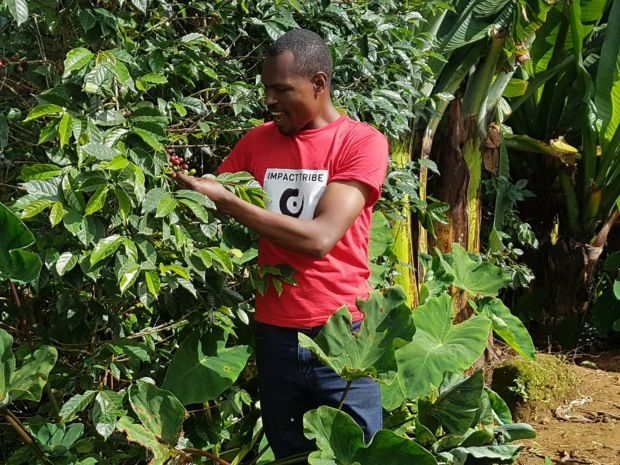 Get your CPH POST!
In addition to roasting its own beans and selling quality coffee at its own cafes, it also sells to other companies.
It also has a mobile coffee cart so you can run into Halalla when he is on tour.
So stop by while satisfying your caffeine cravings and have a chat.
More likely than not, he will blink with his big, wide smile as you approach. Coffee with conscience and good mood… what else can you ask for?
Well… how about reading the Danish news in English while sipping away? Pick up a copy of CPH POST at one of the three Impact Roasters cafe locations.
Source: The Nordic Page