Around Denmark, hundreds of people are getting their lycra and goggles out of storage in time for the many sporting events planned during the summer: cycling, swimming, running… you name it, there is something that falls into any taste (and abilities!).
For those who want to try a little of each, the Ironman and triathlon events have become more and more popular in recent years.
But what about those children and teenagers who want to try their hand at a multidisciplinary event?
The next generation of triathletes
Unfortunately for them, there has not been much around or more precisely, simply nothing!
This is exactly what inspired British citizen Kate Fletcher to start thinking about organizing a children's tri. She started by talking about the idea to her friend and swimming teacher, Sue Allingham, and together they soon laid out more concrete plans.
It was not long before a Dane, Bettina Honoré from Gentofte Swimming Club, and an American native, Nicklaus De Witt from Skovshoved Tri Klub, came on board.
Bettina has a history of organizing sporting events at GSK, so it was natural that she took on the role of project manager, and last but not least, Erika Soeder from the USA joined the team to give a professional touch to the event's graphics. .
Also Øresund Tri – The Next Generation was born!
Encouragement for an active life!
The event will be held at Skovshoved Havn Nord in Charlottenlund, just north of Copenhagen but still in the Capital Region, on 18 June this year and will primarily be for 8 to 17-year-olds.
There will also be mixed relays for families and friends aged 8-99. The cut-off point for registration is June 15, so click here link today and join!
Kate moved to Denmark with her husband's job in 2011 and has even participated in tri-events over the last few years. Kate and her husband have two young boys.
"We all know that sport is not only good for children's bodies, but also good for their minds," she explains.
"And our entire team is passionate about caring for children's mental and physical well-being. Society – especially children – should be encouraged to be active for life! For most children, some of their favorite things are swimming, cycling and running – so participating in a triathlon is a natural choice. Anyone who can swim, cycle and run (or walk) is encouraged to come out and give it a TRI !!! "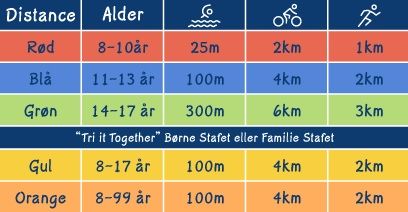 Child and environment friendly
Much thought has been given to making the event as child-friendly as possible.
"We have deliberately shortened the distances to introduce young athletes to multisport and create an environment of friendly competition where everyone is encouraged to participate," Kate explained.
"Athletes will first complete the swimming course in the protected waters of Skovshoved Harbor's kayak polo pool, then cycle along the Coastal Road towards the monument Knud Rasmussen and finish with a run along the pier in Skovshoved Harbor. Bettina has been invaluable in getting permission to use Skovshoved Havn for the event. "
And the event also respects Denmark's excellent green credentials.
"We are also committed to minimizing our impact on the planet and working hard to meet many of the best sustainability practices put forward by Triathlon Denmark and the sport's governing body, the World Triathlon," Kate continued.
"Although our event is small compared to an internationally recognized competition, we can all do our part to protect the planet and help make Mother Nature better for future generations."
Even the police are on board
All in all, something that started as a passing thought in Kate's mind has turned into a major sporting event.
In fact, it is already so large that the police will help block off necessary roads to the event.
Who knows: it could be an annual event in the Danish sports calendar!
Source: The Nordic Page