Usually it is the Swedes who cross the Øresund in search of booze! After all, there is a low quantity limit on the beers sold in their supermarkets, and you can only buy spirits from specialist shops, where you are obliged to stand in line… often for a whole day.
Visit any bar or pub in central Copenhagen before midday in November or December and you're guaranteed to find a group of Swedes enjoying a few quick ones before getting down to shopping. And Norwegians too – after all, half a liter of beer in Oslo will set you back over 100 kroner!
But this weekend a Danish-based group, HIT International Theater Arts, takes the spritz in the opposite direction. It's staging the play'Vodka Talks' and for once the drunkest people in the theater will be on stage!
English-language premiere of German play
'Vodka Talks' is the Danish author Arne Nielsen's debut play … which he wrote in German. Now it sounds like the result of a long night on the town.
It has toured Germany to great acclaim – a journey almost as nomadic as its creator's. Tinker, tailor, soldier, sailor—yes, two out of four, though he was probably a mischievous child. He has also dabbled in diplomacy and electropop.
While Nielsen is a theatrical rookie, the team adapting his play is anything but. The Danish director Lars Junggreen has been active since the 1970s and is a legendary veteran of Danish theatre. While the show's two stars, Jana Pulkrabek and Vanessa Poole, are equally familiar with the stage … and each other. Recent collaborations include 'HAP' in Hamburg last year and 'The Clean House' in Copenhagen in 2019.
Busy season for HIT International Theater Arts
In 'Vodka Talks' – which is performed in collaboration with Playmate Theater Malmö from 11.-13. November at Bastionen Teater, and then 20.-22. April at Teatert ved Sorte Hest in Copenhagen – two sisters share revelations and fantastic discoveries while sorting through their late father's estate.
For HIT International Theater Arts, 'Vodka Talks' is not the only play in the 2022-23 season written by a debut playwright, as in the late spring the group performs 'Don't mention the war', an English-language satirical work set in Denmark that reflects on the build-up, execution and aftermath of Brexit.
It sounds like it will also need vodka.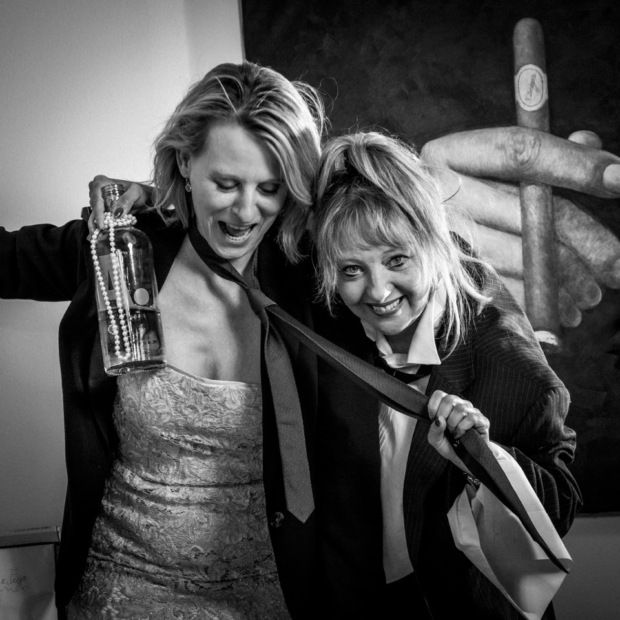 ---
Ballet head looks over shoulder after racism claims about 'Othello'
The Royal Ballet's artistic director, Nikolaj Hübbe, has been living in fear since allegations of racism were made in connection with his production of 'Othello', which had been scheduled to premiere on November 5 but was cancelled. He told DR that he found himself "looking over his shoulder" in light of the vitriolic nature of the outcry. According to A4 Equality, a planned sequence of the ballet, based on choreography by John Neumeier, required performers to hit themselves in the head while making monkey noises. Some argued that it was a stereotypical interpretation, but Hübbe claims that this description of what a warrior/tribal dance is "a bit distorted". Right-wingers have also been up in arms, and Danish People's Party politician Dennis Flydtkjær has even asked the Minister of Culture, Ane Halsboe-Jørgensen, to intervene.
Seven European Film Award nominations for films with a Danish connection
The Danish-produced Iranian-language film 'Holy Spider', the country's official selection for the Oscars this year, has been nominated for four European film awards: Best Film, Best Screenplay, Best Actress for Zar Amir Ebrahimi, who won the award at Cannes and Best Director for Ali Abbasi. In addition, Simon Lereng Wilmont's 'A House Made of Splinters' has been nominated for best documentary, and Danish-based Croatian actor Zlatko Buric has been nominated for best actor for 'Triangle of Sadness'. He has competition from the Danish-American actor Elliott Crosset Hove for his role in the Danish-Icelandic film 'Vanskabte land' ('Godland'). The award ceremony will take place on December 10 in Reykjavik.
Roskilde Festival explains why it would like to be more diverse
Roskilde Festival has confirmed its first 16 acts for its 2023 edition. After their announcement, the festival explained that they represented how in the future the festival would embrace a more diverse future where the main characteristic is 'movement'. "Whether it is a showdown with existing societal norms or an exploration of one's own identity, the program package emphasizes that it is through art and culture that we tread new paths in life," it reads. "Roskilde Festival must be synonymous with curiosity and diversity." Acts include Ghanaian gospel star Florence Adooni, Nigerian singer Burna Boy and alternative K-Pop group LEENALCHI. Full festival tickets for next year's edition cost DKK 2,400 and one-day tickets DKK 1,200 via roskilde-festival.dk. The festival runs from 24 June to 1 July.
Portuguese pop-up opens in Tivoli at the end of next week
Vistas Rui Silvestre, a Portuguese Michelin-starred restaurant, will inhabit the Japanese tower in Tivoli from 19 November to 31 December. Led by chef Rui Silvestre, who became the country's youngest Michelin chef aged just 29, the Algarve pop-up will serve up Portuguese dishes of bluefin tuna, Carabineiro prawns and lemon caviar, as well as a few Christmas specials. Silvestre, who draws on both his Indian and Mozambican roots for inspiration, prefers menus where the ingredients do the talking.
Ballet with the Queen's art to return to Tivoli for the Christmas run
Tivoli's Christmas line-up this year includes the return of the classic ballet 'The Nutcracker' – a show for which Queen Margrethe II designed the set and costumes. It premieres on November 26 and continues until December 23. Set to the classical music of Pyotr Tchaikovsky, Peter Bo Bendixen's choreography cleverly mixes history with Tivoli's attractions, taking us all back to how the theme park looked in 1874. Tivoli will be open for its Christmas season from November 19 to 31th December. The star attraction this Christmas is Santa's brand new home, while the biggest fireworks shows are held on 25, 26 and 31 December at 23.00.
How a museum sets an example for immigrants
Visitors to Østerbro museum Den Hirschsprungske Samling in November can choose between English and Danish language options to enjoy 'Layers', a hybrid art and performance show arranged in and around an exhibition by Ejnar Nielsen. During the last two weekends of the month, both Saturday and Sunday 15:00-16:30, visitors can enjoy sound installations, performances, dance and storytelling. "I fell in love with the history of the museum: how it was founded by a Jewish family who decided to make Denmark their home," explains project creator Delia Trice. "It speaks volumes about immigration and how we as newcomers can contribute to the culture of our new country." Entrance costs DKK 150.
Zak Abel confirms Pumpehuset's appearance
British singer-songwriter Zak Abel will perform at Pumpehuset on 3 May. His deep vocals and R&B-inspired pop have won him plenty of fans, although his most recognized works so far have been songs written for other artists, such as Paloma Faith and John Legende. Tickets cost DKK 225 via ticketmaster.dk.
Macklemore will perform at Vega in May
American rapper Macklemore will perform at Store Vega on May 7, promoting his new album 'Ben' as part of a 19-date tour. It's now been ten years since he and Ryan Lewis released their GRAMMY Award winning hip hop album 'The Heist'. Tickets cost DKK 400 via ticketmaster.dk.
Gazza comes to the Glass Hall
It's probably old news to some, but in the past The English national football player Paul Gascoigne reflects on his life and career in the Glassalen in Tivoli on 21 January.. Tickets cost DKK 400-500, while a VIP option includes a meet & greet with the star a few hours before the show in the Tivoli bar Anarkist, which includes beer and pizza (isn't it normal to cater for the Five Belies' job?).
Globe Irish Pub is celebrating its 25th birthday in style
The Globe Irish Pub celebrated its 25th birthday over the weekend with a party attended by former employees and past and present friends. Landlord Brian McKenna and his wife Nikki turned back the clock a quarter of a century and invited revelers to turn up in their favorite 1990s attire. Movies were a popular theme and a surprise guest stole the show with a tribute to the 1994 film 'The Adventures of Priscilla, Queen of the Desert'. The Globe opened the same week as That Theater Company. Its founder Ian Burns remembers it well: "Our first show coincided with the opening night of The Globes. So when most of the crowd accepted my offer of a draft beer next door, we arrived to an almost empty bar, whereupon the landlord Brian nearly fell off his barstool."
Source: The Nordic Page