For a moment I was sucked in: this couple looks … hot. Uh, wow…sexy pose, rocking those leather pants – this is choreography worthy of an MTV video. And then I caught my breath: come on, let it go, director—we don't need you to overdo this exchange between two sexually charged lovers holding each other on the morning of their wedding day like they can't wait for their already many times accomplished evening.
And that's when it hit me. Dr. Victoria Frankenstein (Jessica O'Hara-Baker) and her fiance (Nathan Meister) hold each other in deliberate poses because that's what they're hardwired to do. They live in a dystopian future without imperfections, where their entire existence is carefully staged because it is their second nature. They may have day jobs as scientists, but they are also models, movie stars and influencers. From the moment they're born (2023 is a fair guess), their entire lives have been documented by TikTok videos, SnapChat lenses, and Instagram filters—sound familiar to any loving parents out there?
In this scene, director Nina Larissa Bassett embodies what is the essence of Reumert award-winning playwright Tanya Mastilo's take on the Mary Shelley classic: a story about how social media will not rest until it has destroyed everything in its grip.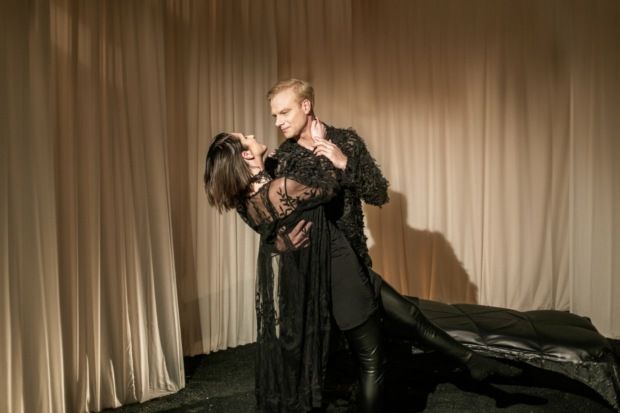 Theater that makes you think
Or maybe I'm getting ahead of myself. As intriguing as the realization that Frankenstein's monster (Sue Hansen Styles)—a wrinkled old woman quickly ostracized by society for existing as a pariah—might represent social media, that's not the only truth in this brilliantly conceived play. It also works equally well as a poignant tale of motherhood gone wrong. In fact, as luck would have it, we're treated to a post-performance Q&A with the director and cast that emphasizes that this is a team effort. Everything has been extremely well thought out. No one mentions social media too much. Maybe it's a bum steer.
But that's irrelevant: in the end, good theater should make you think, and this production of 'Frankenstein' is convincingly thought-provoking throughout, aided by an original atmospheric soundtrack by Barry Wesil – an eerie, menacing, foreboding presence, just like the monster itself. Wonderful visuals by Sofus Bassett, Valentin Christensen (both video) and Peter Rasmussen (lighting, or should that be shadow) also impress: In the opening scene, they make the audience tremble in submission with a blizzard plucked from the doctor's distant soul, quickly followed by an exchange of letters in which the doctor's face becomes steadily more skull-like – a patience for the events to come. All in all, this is perhaps the finest display of visual effects we have seen on an English theater stage in Denmark.
Also worth mentioning is the emergence of the monster, after patiently waiting inert in the middle of the stage for eight minutes, from its silky cocoon. There is something distinctly eerie about faces outlined in fabric, but also something beautiful about limbs – another warning shot before the familiar 'Frankenstein' story unfolds. Because despite swapping the genders of the main characters and changing the era, this version is pretty faithful to the original. Newbies don't need to have read it, but die-hard Frankenfans will have plenty to enjoy.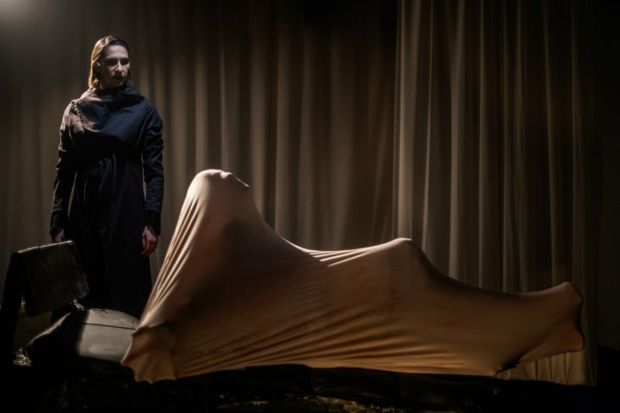 Another stellar show from Why Not Theatre's strong stable
The initial exchange questions whether O'Hara-Baker, a newcomer to the Why Not Theater Company, can convince the audience that she is a scientist worthy of winning the Nobel Prize, although she sounds as if she would settle for with a few thousand likes on Facebook and free Starbucks coffee for life. But in person she's formidable: both matriarchal and malevolent, utterly compelling as a modern Prometheus to watch. Considering how the world fell in love with Wednesday last month, her performance couldn't be better timed.
Hansen Styles is not as wrinkled, or even ugly, as one would imagine the monster to be. If anything, she's been beautified for the role, waif-like and dressed in a nightgown with longer hair than the Why Not Theatre's artistic director usually wears. We're in 'What Ever Happened to Baby Jane' territory and she's creepy enough without the need for pigtails. At first we are told that she has killed someone, and it is hard to believe that "she is a murderer", but before long we are also quite afraid of this otherworldly being: not least because Hansen Styles refuses to sit still and form- moves towards one's goals.
Completing the trio, but in three roles, is Why Not Theater regular Nathan Meister. He's very much the supporting act in this somewhat Aryan turn, but some wonderful insights (and moments of humor) in the Q&A reveal his involvement in bringing this "alive." As an invaluable member of the Why Not Theater gang, it can only be a matter of time before he lands directing duties for one of their plays.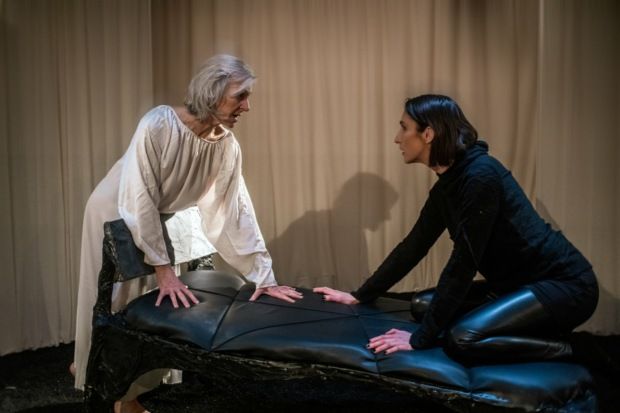 A small blemish, and it's not the freckles
So why not give it six stars given the tremendous quality on display?
Well, for one simple reason: for many in the audience, much of the action was impossible to watch. Every time the actors sank to the floor, the performance sank with it. The crowd began to contort, bob and swing as if an enormous game of Tetris was unfolding in the rows below as they strained to see what was going on. Much of Hansen Styles' metamorphosis and subsequent efforts to walk were lost, along with at least one death scene and some crucial scribbles in the snow.
It was the only blemish on what was a fantastic evening of theatre. Until January 28, you can also find out what all the fuss is about.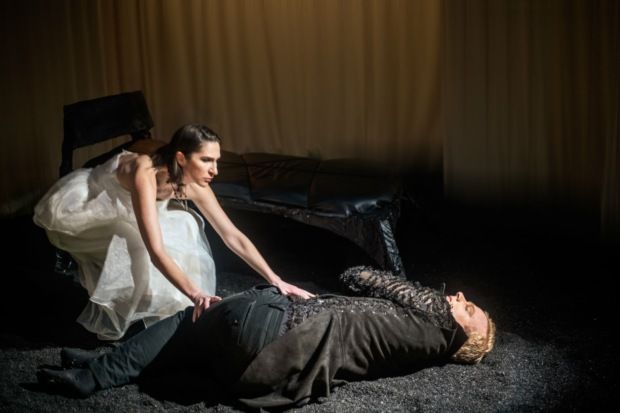 Source: The Nordic Page