Washington – In March 1990, Lithuania became the first republic to break away from the Soviet Union by declaring itself an independent state, a decision applauded by the White House.
Thirty-three years later, this Baltic country of about 2.7 million people is making bold moves to counter China, the rising global power of the century, and find support from Washington as the Biden administration seeks to leverage transatlantic partnerships amid Western fears that Beijing is considering delivering. Russia with weapons in its war against Ukraine.
High-level bilateral consultations was held on Tuesday in Washington between Lithuanian Foreign Minister Gabrielius Landsbergis and US National Security Council Coordinator for the Indo-Pacific Kurt Campbell. A statement said they discussed a "shared commitment to democratic values, human rights and support for the international rules-based order" and "the importance of supply chain resilience", diplomatic speak for policies aimed at countering China's influence.
Lawmakers from Japan to Europe Visit Taiwan to Talk Defense, Chips
"We have long supported Lithuania in resisting coercion from China (the People's Republic of China) and trying to turn that coercion into economic opportunity," John Kirby, the National Security Council's coordinator for strategic communications, told reporters.
"We will continue to work together to strengthen Lithuania's robust economic partnership with Taiwan, toward Taiwan's meaningful participation in international forums, and to develop and deepen these people-to-people ties," Kirby said in a statement. from a joint statement by Landsbergis and US Secretary of State Antony Blinken.
Reports: US House Leader Meets Taiwan President During Her Upcoming US Visit
Tensions have been building in recent years as Lithuania expands diplomatic and trade ties with Taiwan, a self-governing island that Beijing considers a breakaway province.
Days after the establishment in 2021 of the "Taipei Representative Office in Lithuania", Taiwan's de facto embassy, ​​Beijing downgraded diplomatic relations and blocked most trade with Vilnius for what it called a violation of the one-China policy. The move prompted the EU to sue China at the World Trade Organization over "discriminatory trade practices" against Lithuania that it said threatened the integrity of the EU's single market. Beijing denies that it instructed Chinese companies to stop doing business with Lithuanian partners.
Lithuania had minimal trade with China, so Beijing's punitive trade measures had limited effect. Nevertheless, in November 2021, the United States provided $600 million in an export credit agreement to help the country withstand pressure from China and joined the WTO process in support of Vilnius.
Fear of China arming Russia
The consultation with Vilnius takes place amid a flurry of diplomatic activities in Washington. In the past and coming days, European NATO allies will decide whether to join Washington in imposing sanctions on China, should it decide to supply arms to Moscow.
President Joe Biden, who met with German Chancellor Olaf Scholz at the White House last week, spoke with French President Emmanuel Macron on Tuesday and will meet with European Commission President Ursula von der Leyen later this week to discuss the issue.
Germany's Scholz warns of "consequences" if China sends arms to Russia
So far, there is no indication that China is providing more than rhetorical support as it continues to buy cheap Russian oil.
The US warns of increased use of intermediaries to avoid Russia's sanctions
Observers say Beijing's interests are to ensure that the West's focus remains on pouring resources into Ukraine and distracting it from the Indo-Pacific region.
However, tensions are rising. In remarks during the annual session of parliament on Monday, Chinese leader Xi Jinping made a rare, pointed comment accusing the United States of leading an international coalition to contain China.
China's leaders are sharpening their rhetoric against the US
"Western countries led by the United States have implemented extensive containment, encirclement and repression against us, bringing unprecedented serious challenges to our country's development," Xi said.
Xi's comments were followed by sharp criticism from new Foreign Minister Qin Gang, who accused the United States of deteriorating bilateral relations and undermining peace efforts in Ukraine to prolong the conflict in Washington's favor.


In the first news conference, China's minister lashes out at the US
White House press secretary Karine Jean-Pierre said Biden's stance on China has not changed.
"We've been very clear; we're not looking for conflict and we don't want conflict. What we're looking for is competition, and we've been very clear about that for the last two years," she said in a press conference on Tuesday.
Lithuania-Taiwan ties
Vilnius has emerged as one of Taipei's most unlikely yet outspoken allies in Europe, particularly after Lithuania's December 2020 election, in which the ruling coalition pledged to pursue a "values-based foreign policy" to defend "those fighting for freedom around the world , from Belarus to Taiwan."
The new foreign policy translated into steps that angered Beijing, including criticizing China over its handling of a World Health Organization study into the origins of Covid-19, accusing Chinese smartphone makers of building censorship into their products and withdrawing from "17+1″ " initiative from Beijing to strengthen ties with countries in Central and Eastern Europe.
US ambassador: China should be honest about covid origin
Lithuania's history as a small country in a geopolitically volatile environment subject to foreign communist imperial power is partly what drives its support for Taipei, said Konstantinas Andrijauskas, associate professor of Asian studies and international politics at Vilnius University.
"It's only natural that there is a certain skepticism within Lithuanian society and among decision-makers towards all communist, authoritarian and totalitarian regimes," Andrijauskas told VOA. "At the same time, there is a lot of support for the people who are suffering from the respective regimes."
But there is also a realpolitik rational for the Baltic country to be vocal about Beijing, especially as it gears up to host the NATO summit in Vilnius in July.
Lithuania is a member of the Bucharest Nine, a group of NATO's newest members on the bloc's easternmost flank. The group is wary that if Russian President Vladimir Putin succeeds in Ukraine, he would target those countries next.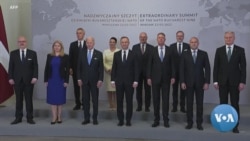 Embed share Biden, Stoltenberg Meet Bucharest Nine leaders worried about Moscow's expansionist ambitions Embed share The code has been copied to your clipboard. width px height px
The URL has been copied to your clipboard
No media source available at this time
0:00 0:02:08 0:00
"The way China has positioned itself in the war in Ukraine has definitely cemented feelings in Europe that Russia and China are an axis," Viking Bohman, associate analyst at the Swedish National China Center, told VOA. "Lithuania gets a certain visibility from this, to be so principled."
Despite 10,000 kilometers of land and sea between Vilnius and the Indo-Pacific region, Lithuania is developing its strategy for the region, which was a central focus of high-level bilateral consultations with Vilnius in Washington on Tuesday.
Source: sn.dk