Stockholm – The family of a Swedish EU employee jailed in Iran has called on the international community to help secure his release after more than 500 days in prison for alleged espionage, his family said on Sunday.
The EU's top diplomat, Josep Borrell, said on Tuesday that Johan Floderu's prison sentence had been raised repeatedly with authorities in the Islamic Republic.
"The family, friends and supporters of Johan are calling for immediate international attention to ensure his immediate release and safe return to Europe," the family wrote on a website dedicated to his release, on his 33rd birthday.
They said Floderus was being held without formal charges in Tehran's Evin prison, where political prisoners and many detainees facing security charges, including Iranians with dual citizenship, are held.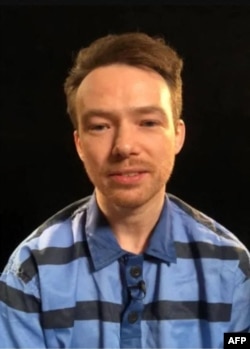 FILE – This Aug. 7, 2023 family handout shows a screenshot taken during a video call from Evin prison in Tehran, Iran, with Swedish EU employee Johan Floderus who was arrested in April 2022 at Tehran airport as he was leaving the country.
His family said Floderus had traveled throughout the Middle East to study languages, explore historical sites and to support humanitarian cooperation projects in Iran on behalf of the European Union, and was arrested in April 2022 before leaving the country.
"His needs for adequate food rations, outdoor walks, medical checks and much more are not respected (in prison)," his family wrote, adding that he had been denied "communication" with Sweden's embassy in Tehran, except for a few consular visits.
They said that starting in February 2023, Floderus was limited to making short phone calls once a month.
"He had to go on hunger strike to be allowed to make several of these calls, which had to be in English and monitored."
For years, Iran's elite Revolutionary Guards have arrested dozens of dual citizens and foreigners, mostly on espionage and security-related charges.
Rights groups and Western governments have accused the Islamic Republic of trying to extract political concessions from other countries through arrests on security charges that may have been trumped up. Tehran says such arrests are based on its penal code and denies holding people for political reasons.
Relations between Stockholm and Tehran have been tense since 2019 when Sweden arrested a former Iranian official for his part in the mass execution and torture of political prisoners in Iran in the 1980s. He was sentenced to life in prison last year, prompting Iran to recall its envoy to Sweden in protest.



Reuters

Subscribe
Source: sn.dk